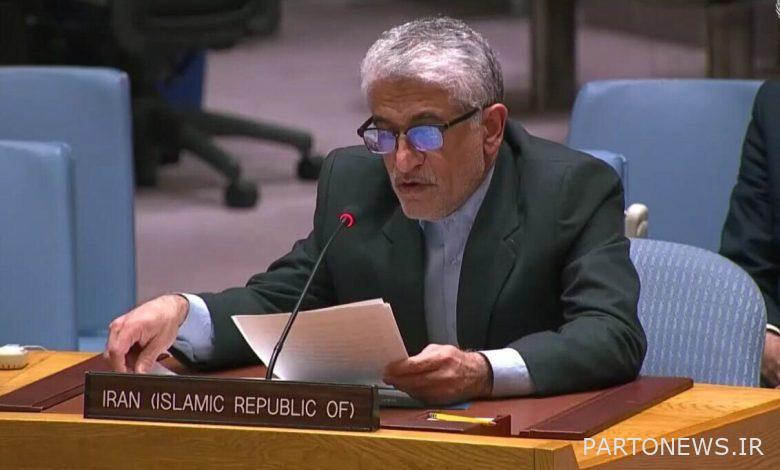 According to Mehr News Agency, Amir Saeed Irvani, Ambassador and Permanent Representative of Iran, sent a letter to the President of the Security Council and Antonio on Wednesday local time. Guterres The Secretary General of the United Nations condemned the recent terrorist attacks of the Zionist regime on Damascus, Syria, which led to the martyrdom of two Iranian military advisers, Major Milad Heydari and Captain Moqdad. Mahghani Jafarabad and a number of civilians and damage to Syrian infrastructure was a heinous crime and another clear example of the continuous aggression of the Israeli regime and the clear violation of international law. international He knew on the soil of Syria.
In this letter, it is emphasized that the Israeli regime continues its aggressive actions against Syria without any consequences and punishment from the international community, especially the United Nations Security Council.
Irvani clarified: In recent months, the Israeli regime has openly violated humanitarian laws and systematically and deliberately targeted critical infrastructure in Syria, including the international airports of Damascus and Aleppo, which are a vital route for humanitarian aid and relief efforts after the recent earthquake. It is Syria.
Iran's ambassador to the United Nations continued: Syria's vital infrastructure has been greatly damaged due to Israel's aggression. Considering the serious consequences of such illegal and criminal actions for regional and international peace and security, as well as serious challenges to the rule of law, the international community, especially the UN Security Council, must take decisive measures to end these violations and hold the Israeli regime accountable. He should answer for all his international actions.
The Permanent Representative of Iran to the United Nations stated: In addition, the Security Council must abandon the dual approach and fulfill its legal duties by clearly condemning the continuous violation of the basic principles of international law and the United Nations Charter by the Israeli regime. The sovereignty and territorial integrity of Syria must be respected and actions that weaken it must not be tolerated.
Irvani continued: The Islamic Republic of Iran has clearly stated many times that it will not take the necessary measures in accordance with international law the international And the United Nations Charter will not hesitate to respond decisively to any threat from the Israeli regime and defend its security and national interests, as well as protect the people of Iran.