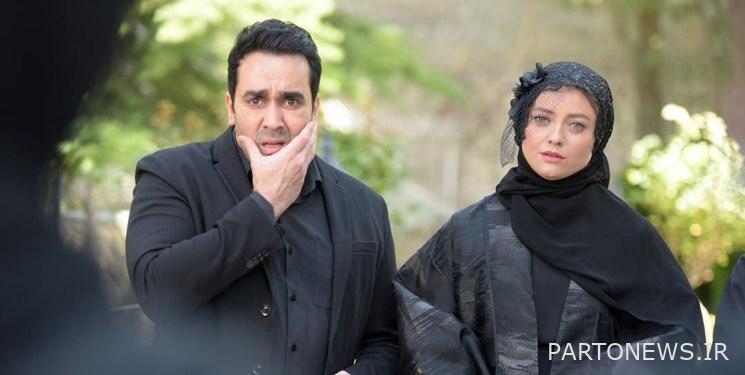 According to Fars News Agency, the movie "Gol Sorkh" directed by Morteza Atash Zamzam, which was previously known as "Holia" and "Jagarzelikha", managed to get a license due to considerations and changes in the final version. The fantasy comedy "Red Rose" is scheduled to hit theaters in mid-fall this year. The creators have also unveiled the first movie poster for this occasion.
Zande Yad Ali Ansarian has played the role of an unauthorized singer in this film who does not speak English fluently, but insists on singing English songs. At the end of the film, he sang a song called "Gol Sorkh" composed by the late Fereydoun Moshiri, which is also the name of the new name of the film.
Pouria Poursorkh, Mohammad Reza Hedayati, Ali Ansarian, Maryam Amir Jalali, Behrad Kharazi and (with) Mohammad Fili and Afshin Sangchap, Majid Shahriari, Sharareh Raham, Shiva Khosrow Mehr, Shiva Taheri, Mehdi Amini, Ali Kocholoo, Mehdi Hosseini, Maryam Naqib, Shima Johari, Hoda Ostavi and Masoud Haghi were the main actors in the film. German-born Turkish actress Wilma Els and other well-known Turkish actress Julia Dicken star in the film.
The producers of the film are Iraj Taghipour and Morteza Atash Zamzam.
Instead of summarizing the story, the creators have provided this text: "In Iran, parents do not allow their children to do anything, but the grandson of the story is always different!".
Amir Gholami, Asal Pouladi, Elif Demirli, Saeed Arabzadeh and Mohammad Ali Shahin joined the film crew in Turkey.
Other main actors of the film are: Writers: Morteza Atash Zamzam and Jalaluddin Dori, Director of Photography: Mohammad Fazileh, Director of Planning and Head of Directing: Masoud Haghi, Production Manager: Abolfazl Atash Zamzam, Director of Recording: Meysam Yardilo, Makeup Designer: Mahyad Mimi, Costume Designer: Ali Sangini, Cinematographer: Amin Ishaqian, Editor: Kavous Aghaei, Design and Sound Composition: Mahmoud Mousavinejad, Photographer: Arash Shahmohammadi, Aerial Photography: Mostafa Alipour, Costume Designer of Foreign Actors: Farnaz Javadan Kherad , Production Deputy: Mehdi Rajabi, Planner: Amin Ranjbar, Assistant Director: Leila Nasr, Saeed Jalili, Stage Secretary: Marjan Bahrami, Behind the Scenes Photographer Mahmoud Karimi, Project Consultants: Reza Shakeri, Mohsen Kiani, Moderator: Mohsen Atash Zamzam, Media Advisor: Hadi Etemadi Majd.
End of message /
.