Balls and nets
Sport
Khorshidi: All rewards were according to the decision of the board of directors / Majedi said Azizi Khadem is a healthy person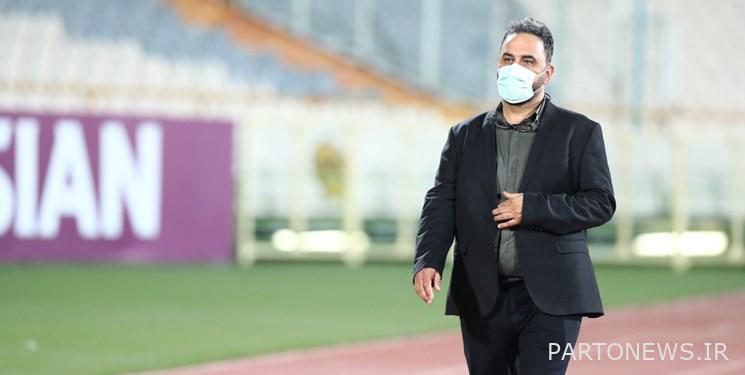 According to the sports reporter of Fars News Agency, Mojtaba Khorshidi stated about his presence in the ethics committee of the Football Federation: "For 2 months, all kinds of slanders have been leveled at us and we have remained silent." I also issued a statement last week when I saw that if we did not speak, we would be oppressed. They said that Khurshidi has received astronomical rewards and salaries, and that public opinion, if it does not know, thinks how much we have received.
He continued: "I speak clearly and I have a right and I can put it on the site for everyone to see." I received 35 million tomans, which was my responsibility for all the day and night. Managing 60, 70 people in the camp, you know how hard it is. I held 12 camp sessions that did not cause the slightest problem and showed that I knew how to manage. After 12 games, they said no more. My morals are that I work until the day I am and I don't think about it anymore when I came out, but when the attacks started, I had to talk.
He continued: "Steely has the right to get 500 million a year in this football and if he does not get it, he has been wronged." 35 million consider me an astronomer, even in those difficult circumstances. If football did not go to the World Cup, football would be destroyed in 4 years. We took the team to the World Cup with the best results, but then they said we got an astronomical reward. All rewards are approved and I presented them to the ethics committee. We can not publish the documents because it is illegal. On the other hand, all the rewards of staff and supervision have been the same. You ask to see if the bonus of the supervisors of the Premier League teams is 20% of the staff or are they rewarded as much as the head coach and the main players? One billion and 130 million has been with bonuses and salaries, but this amount has also been taken by the goalkeepers' coach. All our receipts are legal and mystical, and it is the same all over the world.
The former head of the national team said: In the approvals of the third meeting of the board, it was said that the management staff should be 100%, we won 4 matches, but in the next 8 matches, the name of the manager was not mentioned and it was announced that according to the president to be payed.
"I said a word about steel, look what a controversy it was," Khorshidi said. If we want to talk, we can say who has been rewarded, but my goal was not Steely. In this football where some people do not know their left and right hand and how much they get paid, if Steely gets 500 million, it is not enough. Everyone on the team has taken the money, but it is all planned to follow a media path to beat Azizi Khadem. Radio and TV reporter has been beating Azizi Khadem since the day he came?
In response to the question that his position was not that of leading the national team, he said: "We showed that our position was not wrong and we led the team to the World Cup with the best results." If good management is not applied in the national team, there will be a problem. We proved it in practice. The federation's management decides who will be in charge, and now Steely has arrived. Were all the previous supervisors football? The bicycle seller was brought from Dubai and no one heard him. I was the vice president of the railway club for 19 years and Esteghlal for one year. During Dehdari, several players resigned and the future ones commented on their behavior, and now the future ones will comment on Azizi Khadem.
The former head of the national team stated: Azizi Khadem is a healthy person and those who are on the board of directors confirm it. Mirshad Majidi himself told me that he was a healthy person, but for some reason he may not have worked with the board, he left. I do not know why you are stuck on 500 or a thousand euros now, see the performance. Check if the national team media managers or photographers have taken pictures. If they did not take it, hang those who took it, and if they did take it, we should take it now.
Regarding the fact that Azizi Khadem said that there are no financial resources and whether it was right to receive so many rewards under these circumstances, Khorshidi said: "According to the results obtained, these rewards are not an amount at all in Iranian football." These are the amounts approved by the board. If you want to hit someone, hit them the right way, but this kind of beating is embarrassing.
The former head of the national team said about the events of the meeting: I do not know. I just presented my defense and documents and came out.
Asked whether the money should be returned, he said: "It is not like that and these are the mental perceptions of the people who make these statements." Everyone in the federation has been rewarded, which of course I think is not enough. Everyone worked hard for the team to climb to bring 600 billion to the federation. Now our football is about 500, 600 billion dollars. The smell of kebab is sweet for many.
"Yes, if it were only for me, it would be too much, but when it is for all members, it is not too much," Khorshidi said, noting that you do not know more than a billion bonuses and salaries. See how much other countries cost. Our club figures are sometimes much higher. In this month of Ramadan, let us clear our hearts a little. You should not trumpet my salary of 35 million. At least consider God. Azizi Khadem was oppressed, but whatever the decision of the assembly, it is acceptable. The results that the national team achieved in Khadiz's era may not be repeated for years, but they did deserve it.
"I do not know why Azizi Khadem did not come," he said.
The former head of the national team said about how much he hopes for the result of this meeting: "I was very happy to be present in this meeting and to speak."
"Anything that has been presented has not been presented and whatever has been presented and I should not present it," Khorshidi said, referring to the fact that some rewards documents have not been submitted. The federation is in charge of finances and do not worry about this. The job of some media outlets is just to hit football. Football is now a sacrificial meat and everyone wants to make a piece of it.
End of message /
Suggest this for the front page