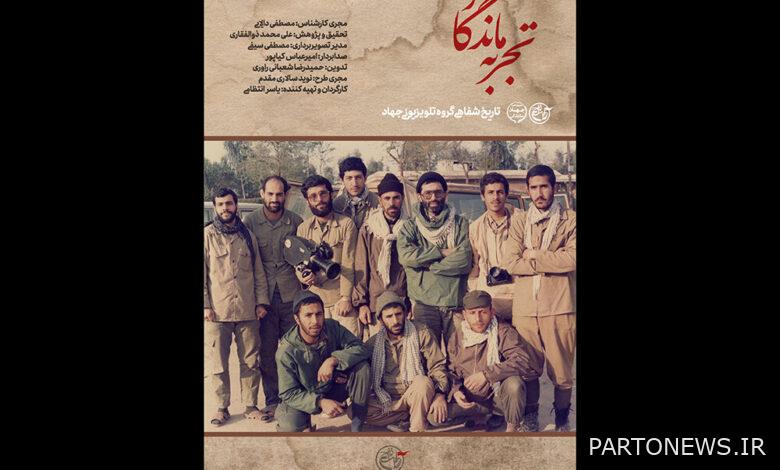 According to the Mehr news agency, citing the public relations of Narrat Fatah Cultural Foundation, the "Lasting Experience" series, directed and produced by Yaser Tazami, produced by Narrat Fatah Documentary Group, will be broadcast from this Sunday on Efoq channel.
In this collection, which took three and a half years to research and produce, along with interviews with those involved in the production of documentaries from the Jihad TV Group and the Fatah Narrative Group, the history and trends of the productions since 1358 have been examined.
Zindyad Nader Talibzadeh, Ebrahim Hatami Kia, Reza Borji, Mehdi Homayunfar, Mohammad Mahdi Heydarian, Rajab Ehsani, Mohammad Reza Sarati, Behrouz Shakuri, Majid Farahani, Ahmad Abbasi, Mahmoud Niknejad, Mukhtar Ali Salimi, Masoud Samadi, Mehzad Arshadhi, Saeed Yazdani, Ahmad Haeri. Mohammad Santi, Moharram Ali Kalij, Mohammad Yusuf Zadegan, the late Ibrahim Kihani, Gholamhossein Pirhadi, Saeed Faraghi, Hadi Nazerian Qomi, Mirkivan Khalilpour, Mahmoud Baderfar, Hamid Manzavi, Morteza Shabani, Asghar Bakhtiari, Mohammad Sadri, Qasim Bakshi, Saeed Mazandarani. Seyed Hossein Hashemi, Mohammad Ali Farsi, Parviz Ramezani, Ismail Berari, Mohammad Hossein Gadami, Jafar Shahrabi, Mehrdad Kashani, Nusratullah Mahmudzadeh, Qadratullah Seidan, Qadratullah Bagharian, Seyed Mohammad Jafari, Hojatullah Amir Hosseini, Mohammad Bakhshi, Akbar Bakhshi, Mohammad Sadegh Sadeghi Moghadam, Mohammad Reza Islamlou, the late Mohammad Akhwan, Javad Haqpanahan, Hoshang Mirzaei, Mostafa Dalai, Sohrab Alami and Sardar Alireza Afshar are the people who mentioned the events, memories, production process, problems and dangers of program production in different decades in this documentary.
The first episode of this series will be broadcast on Sunday, October 16, at 21:00 on Oghet network.
Fath narrative documentary group is one of the subgroups of the narrative cultural foundation, which is responsible for the production of documentaries in the field of Islamic revolution, holy defense and resistance.