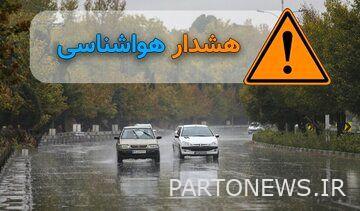 According to Moj news agency from the organization Meteorology, Today, a yellow warning has been issued for the heights in the east of Mazandaran, Golestan and east and north of Hormozgan due to the forecast of showers, thunderstorms and temporary strong winds.
Flooding of waterways and rivers, flooding of roads, disruption of inter-city travel, lightning, damage to temporary structures such as banners, scaffolding and billboards, and disruption of flights are some of the dangers of this weather phenomenon.
The Meteorological Organization advised the compatriots in these areas to refrain from stopping on the banks of rivers and canals and climbing to heights and to be careful in inter-city trips.
Also, a yellow warning has been issued today for the north of Sistan and Baluchistan, east of South Khorasan and south and east of Razavi Khorasan, east and south of Semnan, Ilam, Khuzestan, Bushehr and north and east of Isfahan due to the forecast of strong wind and dust.
According to this forecast, in these areas, there is a possibility of dust rising, reduced visibility, reduced air quality, damage to urban and suburban equipment, including falling banners, advertising boards, scaffolding and temporary structures, falling objects from a height and breaking saplings and old trees. .
Avoiding being in the open air, not driving on roads, ensuring the strength of temporary structures, avoiding construction activities and not parking cars near unfinished buildings and old trees are among the recommendations of the Meteorological Organization to the compatriots in these provinces.