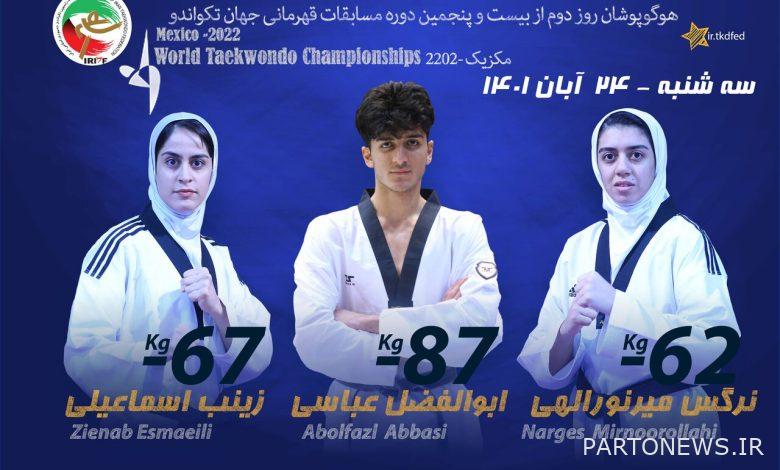 According to IRNA, the 25th edition of the World Taekwondo Championship has started today – Monday – with the participation of 755 taekwondo players from 120 countries, hosted by Mexico at the "Metropolitan" Hall in Guadalajara, and on the second day of the competition, Iran will have 3 representatives.
In the women's group, Sayeda Narges Mirnorullahi in the weight of -62 kg, there are 41 participants, and the taekwondo representative of our country faced a break in the first round, and in the next stage, she must face the winner "Caroline Jelsvik" from Norway or "Alicia Valdez" from Paraguay to be placed. On Mirnorullahi's side of the table, there are representatives of South Korea, India and "Ashley Krejold", a strong Canadian opponent and second in the world ranking.
Zainab Esmaili will represent Iran in the 67-kg weight category, and in the first round she will have to face Lauren Williams from Great Britain and the runner-up of the 2020 Tokyo Olympics. The runner-up of the Konya Islamic Countries Solidarity Games will face the winner of the meeting between the representatives of Puerto Rico and Serbia if he wins against this strong rival. 35 taekwondo players have registered in this weight.
In the men's group, Abolfazl Abbasi, the champion of the 2022 World Championships in Sofia, Bulgaria, will compete against "Enrique Perez" from Cuba in the first round at -87 kg, and if he wins, he will fight against "Miguel Matins", the number one in the world ranking. . Representatives of Serbia and Azerbaijan are present on the Abbasid side of the table. There are 41 taekwondo players in this weight.
The national women's taekwondo team is led by Mino Madah as the head coach; Neda Zare and Mehroz Saei accompany him as coaches. In the men's group, Bijan Moqanlou is the head coach, and Masoud Haji Zawareh and Naima Khajovi will be the coaches of the national team.