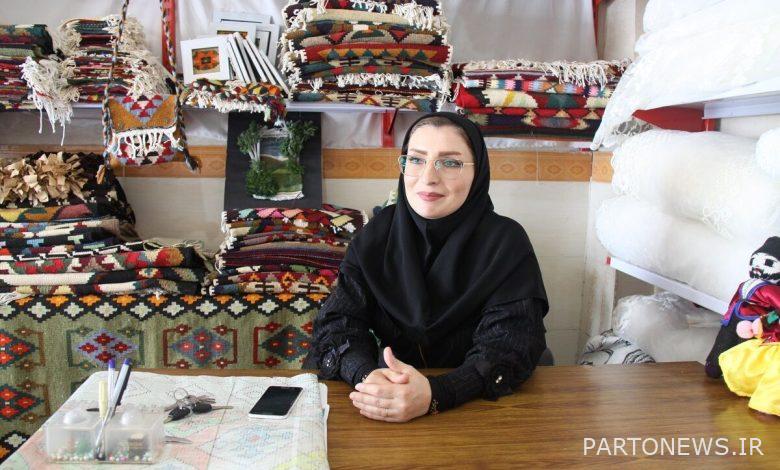 According to the IRNA correspondent, this Miandoabi woman entrepreneur first started her career with her husband in tailoring and then expanded her activities in other fields of handicrafts, so that she is now one of the top entrepreneurs and a role model for rural women. .
According to her, this rural lady is one of the women who started her activity with enduring many hardships and hardships and with only 200,000 Tomans of capital and has now reached the stage of exporting her products to European countries.
The woman entrepreneur started her activity in the village of "Golsulimanabad" and during these years has won top rank in various national and international women's festivals and now, in addition to tailoring, she has also worked in the field of "kilim, doll making and medicinal plants". And teaches rural women entrepreneurship and ways to earn money.
She also established a women's micro-fund to promote a culture of savings among the women of her village, and by using this small savings to receive bank facilities to create more jobs in the village and employ rural women, and to create a business environment among the women of the village. Promote "Golsulimanabad".
He has now become one of the most successful trainers in the village and promoters of the "One Village is One Product" project, promoting the traditional kilim texture in the village, so far he has trained 160 village women and girls to make kilims.
Annual production of 2500 square meters of kilims
Saeedpour says: "Our average annual production is about 2,500 square meters of kilims, which are usually sold through export markets through intermediaries, virtual pages and attending international exhibitions."
He added: "This year, with the support of the Cultural Heritage, Handicrafts and Tourism Department of this city, I was able to directly attend the exhibition in Iraq in Halabja province and enter the export market directly."
He, who operates under the brand name of AIPAC Glim, says that he also received the seal of national authenticity and quality from the Ministry of Cultural Heritage, Tourism and Handicrafts late last year.
Saeedpour continues: In order to empower rural and nomadic women, according to the existing capacity and potential in the region, we have revived the kilim weaving industry and we are implementing the "One Village is One Product" project, which I will support in implementing this project. To.
He added: "The main goal of this project is to empower women in various fields of handicrafts, which can help people's livelihood and create a sustainable livelihood along with agricultural activities."
Receive the Global Energy Foundation Sustainability Award
This entrepreneur and activist in the field of handicrafts recently shone and was praised for her extensive activities at the Global Energy Foundation 2022 Sustainability Award event on Kish Island.
The Head of Cultural Heritage, Handicrafts and Tourism of Miandoab stated: This woman entrepreneur in the youth and women sector succeeded in receiving a plaque of appreciation from this foundation by presenting and implementing a empowerment plan for nomadic and rural women based on the LNSIE model.
Fatemeh Alizadeh added: "Also, $ 400 of the Globe Energy Currency Code was awarded to this exemplary lady of Miandoab by" Maka Gandhi ", Chairman of the Jury, and" Wolfgang Newman ", President of the World Globe Energy Foundation.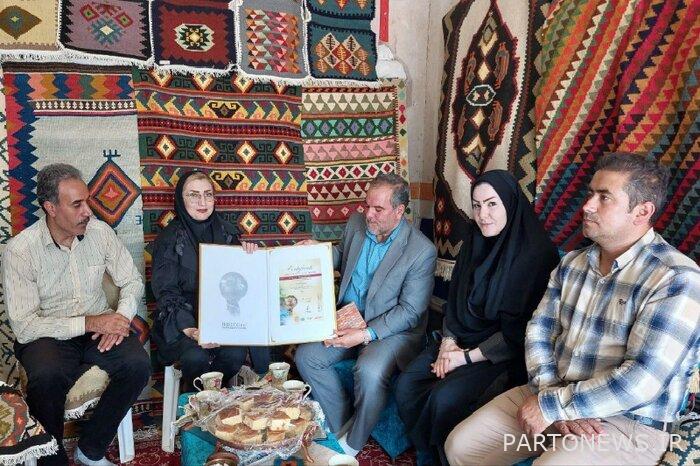 He added: "Since 2000, this foundation has awarded an award called the Annual Globe Energy Award with the aim of evaluating projects and identifying the best practices in the field of energy sustainability and introducing selected projects in the fields of energy, water, air, land, youth, sustainable startups and Sustainable Buildings holds a global event to learn and direct funding and funding from international organizations along the way.
He said that 187 countries participated in the competition process of this award, adding that the participants will present their designs in the mentioned sections and the best designs will receive awards after being evaluated in a global ceremony.
The head of the Cultural Heritage, Tourism and Handicrafts Department of Miandoab, stating that this Miandoab lady was one of the four women selected for the event, added: Had found a way.
He continued: "This lady national entrepreneur also won the second title two years ago in the third national festival" Sustainable livelihood instead of agriculture ".
Alizadeh added: "By presenting the idea of" kilim weaving from 100% recycled materials "with the approach of rural women employment and sustainable livelihood in the villages along the satellite wetlands of Lake Urmia, selected" Innovative ideas and products "section with emphasis on attracting people's participation in conservation and restoration The country's wetlands with the priority of Lake Urmia and satellite wetlands to win the top title of the festival "Sustainable livelihood instead of agriculture".
He stated: The entrepreneurial process of this worthy lady started for the first time in Iran by sewing flags, producing kilims and finally to the sweaty texture of car seats.
I started entrepreneurship as a child
"Saeedpour" also avoided the reasons for working in handicrafts and said: "Since I was a child, due to the fact that my mother was a tailor, I became closely acquainted with this profession and in my spare time I made cloth dolls for myself and for my doll clothes." My mother was getting guidance.
He continued: "Due to my great interest in sewing and I was familiar with this profession from childhood and I sewed various models for the women and girls of the village, I was able to find a good market for myself in the village and even some of my relatives from the city sewing." They brought themselves to me.
He says: "At first, due to the many orders I had, I felt I had achieved good success, but little by little, I thought of developing my work and in addition to sewing clothes, with the first subsidy in 1389, I bought another sewing machine and worked." I also started sewing curtains.
The Miandoabi entrepreneur added: "That year, the Hadi project was implemented in the village of Golsulimanabad, Miandoab, and this village of one thousand families was the first in the city in terms of housing renovation, which was a good excuse for me to receive many orders for sewing curtains inside the village." I could not do the orders alone, so I got help from rural women.
He said: "For the first time, the idea of" buying curtains with free sewing and installation "came to my mind, which was well received by the villagers, so I found a number of volunteer tailoring students among the women and girls of the village, whom I taught tailoring, who welcomed The villagers were well accompanied.
Saeedpour added: "With my creativity, I was able to design several new curtain models, and at each stage of the design, I used the women and girls of the village and their good tastes, and even the residents of neighboring villages and even the city ordered for their homes."
He continued: "As my work expanded, a number of other women in the village also wanted to work in the workshop, so another idea came to my mind, so that I could start making" padri "with the help of scraps and discarded curtain fabrics with their help." I did.
A few people were making "pads" (dehumidifiers) in the workshop, and some customers who came to order curtains also bought pads that were the same color as their curtains, and with this idea, there was a problem with waste and fabric waste, which had become a problem for me until then. Had also been resolved.
I have been waiting for land for seven years
But in part of this conversation, the Miandoabi entrepreneur points out that there are many problems in her business and says, "I have always tried to deal with our problems alone, but in some places it is really necessary for the authorities to act."
Saeedpour stated that since 2015, he has applied for land to develop his business and establish a workshop, as well as to establish a rural eco-lodge next to it. A meeting is held and it is announced in the media that the problems of a certain workshop have been solved, but it is announced to the same extent and then it is forgotten.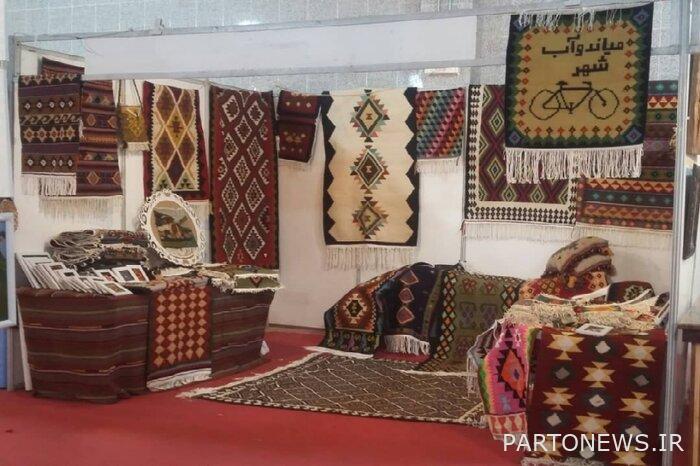 "Every time we criticized in the media, we were protested by the relevant departments," he said. They addressed the issue, which, as in the past, we are waiting for a meeting on this issue.
Saeedpour considers the early changes of the officials as a factor in the non-realization of this important thing and says: as soon as an official gets acquainted with our working conditions, it changes after a while and our case remains stagnant again until it reaches the next official.
She goes on to say that her activity is a kind of business support for a group of nomadic and rural women who are struggling to make a living for their families in this economic crisis. They are trying at night.
This Miandoabi lady continued: "One of the most important problems of rural and nomadic women is the way of paying employment loans. Sometimes the managers of some banks take the conditions so hard in providing a guarantor for 10 million Tomans of facilities that they give the applicant a gift."
Miandoab ranks first in West Azerbaijan in terms of the number of rural women microcredit funds; The activity of these funds contributes to the prosperity and dynamism of rural households and job creation in rural areas of the city.
In this city, 23 rural women microcredit funds with the membership of 727 rural women in this city with a capital of 7.5 billion rials are operating.
The village of one thousand families "Golsulimanabad" Miandoab is located 20 km east of this city and on the axis of "Sarcham" road of this city.
Miandoab has a population of 277,000 and is located in the south of West Azerbaijan.