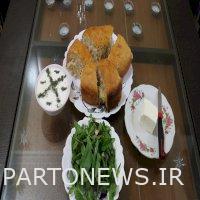 Kamach is a traditional bread that is baked in almost all regions of Yazd province, but the difference in raw materials and composition is quite obvious, so that Kamach Bafgh can be introduced as a "traditional cake".
This traditional bread is made from wheat flour, yeast, cow oil, eggs, salt, and coriander, black seed, yellow flower and sesame are used to decorate it, which is why it is very nutritious and at the same time healthy. Kamach can be used for two purposes as bread on the table, or in other words as a supplement to the main meal, or in the absence of other foods as the main meal.
Although today komach is cooked with new cooking utensils, like other traditional cooking, kamach must be cooked on a fire without a tongue. In the old days, ostriches used to put the dough in a pot or so-called komach dan and stop it in the middle of the fire provided for tea or light and heat, in the intercity stops.
Bafgh Kamach bread baking skill has been registered in the list of intangible heritage of the country under number 2455.