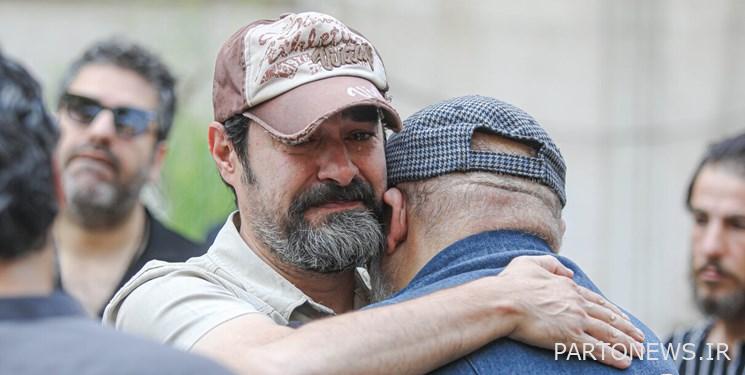 According to Fars news agency, in a ceremony before noon today, Monday 13th of Shahrivar, the body of Morteza Poursamadi, who was working in the series "Sin of an Angel" by Hamed Anga and suffered a heart problem on Saturday, was buried.
Toraj Mansouri, who was in charge of the ceremony, said at the beginning: I haven't slept all night and I thought what should I say now? Morteza Poursamadi was a model with whom we should measure being human. He traveled all over Iran and I, who have known him for many years, have the right to testify to his greatness. He was the eldest son of Iran and a trustworthy and generous person.
It was the moving geography of Iran
Mohammadreza Aslani, the veteran documentary maker, also stated that we lost many works that should have been made, and emphasized: This loss is the result of a kind of ignorance of our civilization, because he was not just a cameraman, but discovered and presented beauty and with Photography depicted anthropology. Morteza Poursamadi was the moving geography of Iran and we lost the Iranian man suddenly and unexpectedly.
In addition, Hassan Bashkoufeh, the cinema producer, pointed out that I was in a very bad mood at the ceremony of Azim Jawanrouh, and recalled: At that time, Mr. Pourahmad, may his memory live on, told me that Azim did not owe me a life and took his share. Now, the same should be said about Morteza Poursamadi, and I am fortunate to have worked with him in movies, documentaries, and series, but these works are not important, but his memories are important, and we lack such great people.
He clarified: We have artists who work with this position, but they are not appreciated. We are on TV, but unfortunately I have to say that we are homeless. The cinema house is kind to us that we are here, but the fact is that we came to the cinema from television.
A good portrait should be made of Poursamadi
After Bashkoofeh, it was Morteza Razzaq Karimi who emphasized Poursamadi's valuable works in the field of anthropology and sociology: We need Poursamadis in society and I hope that a good portrait of him will be made so that the younger people will know this artist.
I feel like the day I lost my father
Then the actor Shahab Hosseini, who was in front of Morteza Poursamadi's camera in "Angel's Guilt", said: Mr. Poursamadi was exactly a manifestation of God's love and whenever you said hello and he answered or hugged you, you felt that you were in the arms of God! This traveler of ours is eager to travel the truth and I don't want to take more time, I just say that he should read the fascinating book "Cold Oven" by Mr. Poursamadi and those who want to know him or even give him an exquisite gift should go to this book.
He added: Mr. Poursamadi revived in me the feeling of the day when I lost my father because he acted as a father to me in the movie "Middle-class Dweller" and if they were not there, the movie would not have been finished.
It was hard for me to imagine the day when we send Poursamadi here
Hassan Fathi, who made "Zero Zero Orbit" with live filming of Yad Poursamadi, said: "We saw off many great people here, but it was hard for me to imagine the day when we saw off the master here." We lost a multi-faceted and comprehensive artist. He was a teacher of ethics without talking about ethics. He was a teacher of mysticism without talking about mysticism and it is our historical tragedy that experiences are not transferred from one generation to another.
Poursamadi was not earthly
Mohammad Mehdi Asgarpour, the chairman of the board of directors of Khana Cinema, also stated that he wanted to say that Mr. Poursamadi became heavenly, but he was not very earthly, and clarified: He left behind a valuable treasure, which I think was from his light and fluid spirit, and he died today. It reaches its resting place.
He died with the same mise-en-scene he loved
Milad Tanidnam, Morteza Poursamadi's first assistant in the series "Angel's Guilt", saying that he called Morteza Poursamadi "Aghajan", said: "The greatest man I saw in my life was Aghajan, and I am happy to be with the same mezzanine he loved, that is, on the stage and on the stage. The world is gone.
In the final part of the ceremony, Adel Poursamadi, the artist's son, also expressed his condolences to his mother on the death of his father and added: "After my father became a heavenly father, I saw that the number of my brothers and sisters is much more, and this was encouraging." I envied my father several times, including the fact that at the age of 10, he found the meaning of life in the viewfinder of a camera, and this does not happen to everyone. It's a pity that I don't see him anymore.
The last person was Morteza Poursamadi's wife, who thanked the audience and said in two short sentences: Morteza's glass broke, our hearts were also broken and burned.
At the end of the ceremony, Toraj Mansouri said: We Iranian cinematographers, that is, all the people of this profession, regardless of which category and group we belong to, we wish from the door of existence and the great God to create other Mortezas.
This ceremony was attended by figures such as Shahab Hosseini, Mehdi Soltani, Ali Musafa, Hamed Anga, Babak Karimi, Laden Mostofi, Homan Bahmanesh, Behzad Farahani, Farhad Toheidi, Saifullah Samadian, Manouchehr Shahsvari, Jamshid Gorgin, Diba Zahedi, Pardis Pourabdini, Sam Kabudovand, Aziz Saati, Bahram Badakhshani, Tourj Mansouri, Hassan Fathi, Mohammad Mehdi Asgarpour, Habib Esmaili, Amir Shahab Razovian, Behzad Khodavisi, Mehdi Miami, Morteza Razzaq Karimi, Setara Eskandari, Marzieh Broumand, CEO of Khana Cinema, Mohammad Mahdi Tabatabai Nejad, former director of the Development Center It was accompanied by documentary and experimental cinema.
Morteza Poursamadi's body was moved to Behesht Sakineh in front of the cinema house at Kilometer 5 of Karaj Qazvin highway, Kamal Shahr, Behesht Sakineh St., and his grave is located in plot 32, row 26, number 108.
end of message/
You can edit this article

Suggest this article for the first page