According to new data, the sales of long-term bitcoin investors have reached near the lowest level in history. In fact, most of the people who have been selling in recent days are investors who have entered the market in the last 3 to 6 months.
To Report Coin Telegraph, Looking at the new data, we find that although the price of Bitcoin peaked at $ 69,000 in 2021, the old Bitcoin investors have never sold.
Data from Glassnode, a CDD index, show that the number of units sold by older investors is nearing its lowest level in history. This index actually provides a tool for monitoring the trading behaviors of long-term bitcoin investors by calculating the lifespan and inventory of each address. Even now, considering the history of long-term bitcoin investors, it can be said that this index is in a very calm situation.
The CDD index actually shows how long a bitcoin stays intact each time it is moved between two wallets. This tool can be used to simplify the process of measuring trading volume and examining market trends. Older units are more important than constantly moving bitcoins.
The Twitter account of UTXO Management published the chart below, saying that although the price of bitcoin has risen in the last few months, the current value of the CDD index is still close to its lowest level in history.
The data show that after the record-breaking bitcoin price in 2017, which caused some old investors to sell their bitcoins, large investors have not done so.
Even approaching $ 70,000 did not change that trend, and it still seems that these are the new investors in the market who are selling.
Summer buyers, winter sellers
The Hodl Waves index of Unchained Capital analytics platform also confirms that the highest sales were related to bitcoins purchased between 3 and 6 months ago.
This shows that current sellers bought their bitcoins between June and September (June to September) 2021; That was when the price of bitcoin reached $ 30,000.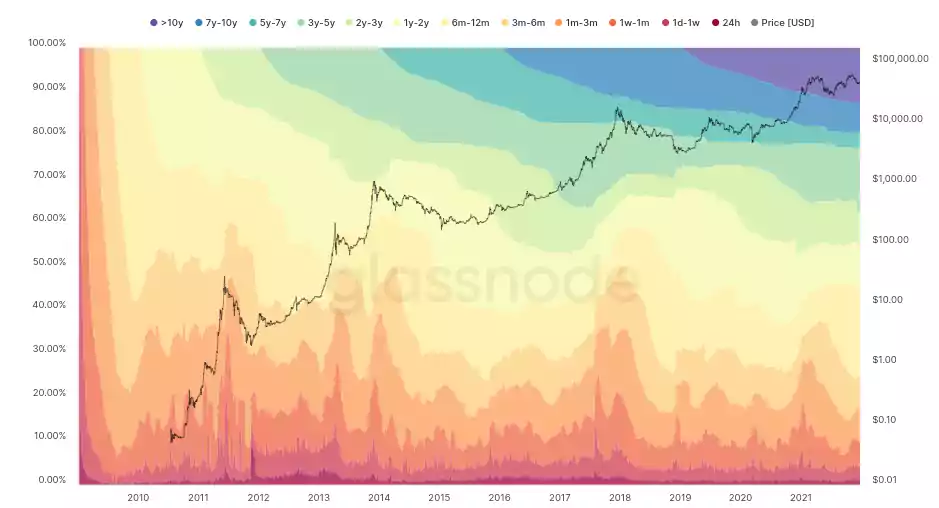 Also read: The rules of being a Hoodler; Are you a Hoodler?
Differences between different bitcoin holders have long been under the magnifying glass of analysts. The capital of those who bought their bitcoins for $ 20,000 has now doubled; Because the prices for the end of 2021 are more than $ 20,000 more than the prices for the beginning of January.
Dylan LeClair, senior analyst at UTXO, said on December 23 that the bitcoin market had once again entered a phase of accumulation. It should be noted that the following index measures the outcome of long-term investors' sales and sales, and its positive means that most holders are accumulating bitcoins. Leclerc also said last week that long-term investors would generally increase their holdings this month.