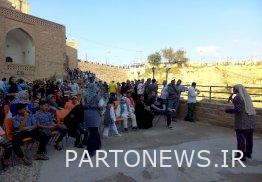 According to Aria Heritage report, quoting from the public relations of the General Directorate of Cultural Heritage, Tourism and Handicrafts of Khuzestan, Amin Mahdavikia said: In a culture-oriented action and in cooperation with the Iranzmin cultural and artistic group, a reenactment and Shahnameh reading event was held in the world complex of historical water structures in Shushtar.
Head of Shushtar Historical Aquatic Structures World Heritage Site, pointing to the warm presence and acceptable reception of this Nowruz cultural event, added: Due to the reception of guests and tourists to Nowruz cultural programs, this program was also taken into consideration.
He continued: This event was held with the presence of young and adolescent poets and Shahnameh reciters of Shushtar Khaneh of Shahnameh and Shahnameh reading and with the efforts of Majid Behdari, the manager of Khozestan Khaneh of Shahnameh.
Mahdavikia stated: This program was implemented with the aim of providing a social and cultural event in Shushtar's international campuses and to familiarize tourists with Iranian culture as much as possible.
end of message/