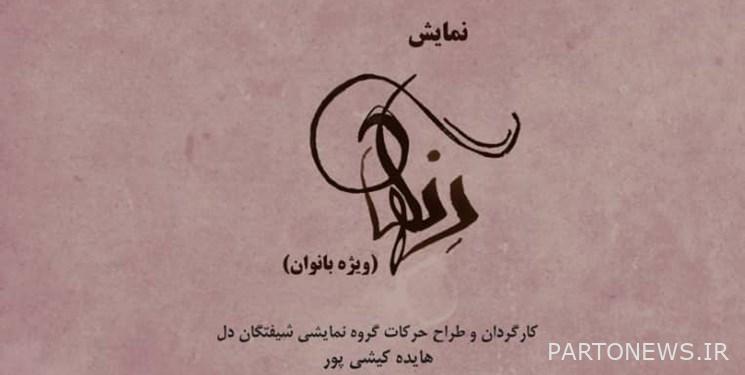 According to Fars News Agency, the play-music of "Rangha" will be staged on Friday, June 10, for women, in Vahdat Hall.
This play-music will be staged by the theater group Shiftegan Del, directed and designed by Hayedeh Kishipour, and the music group Avaz-e Melal led by Shahla Milani, on Friday, June 11, at 2:00 PM in Vahdat Hall.
Sonia Nezami (fiddle), Marzieh Rivand (piano), Sahar Saffari (percussion instruments), Neshat Akbari (soprano singer), Sahel Salehehizdkhast, Nastaran Sadeghi and Shaghayegh Pouranayati (soprano choir), Lena Kouchari, Leila Moghan and Sepideh Aina Alto Choir) are members of the Song of Nations band led by Shahla Milani.
Also Touba Azarmonia, Elnaz Aghazadeh, Yasman Yousefi, Parmis Basaeri, Yasman Parsian, Heliarzaei, Maedeh Sarkhil, Sadaf Samimi, Farnaz Fatholah, Nazak Shahbazi, Anita Tari, Sepideh Taheri, Aida Bani Hosseini, Mojdeh Taham, Mojdeh Tahmah Sanaz Farjalehpour, Yana Vahdat, Armita Afshar, Parmidabasairi, Athena Khaleghi, Yasmin Kia, Mina Majdizadeh, Saba Safaei, Zeinab Mousavi, Parasto, Mehrana Soleimani, Amitis Farjouzadeh, Baran Abbasi, Puneh Majidi, Aimar Farimar, Farimar Rabiee, Avin Irajpanah, Sarina Khalili, Shana Mohammadi, Glavij Karimi, Mehregan Asna-Ashar, Kiara Amir Mozaffari, Arghavan Jabbari, Nazli Karampanah and Nazgol Karampanah The Fascinated Heart Theater group is directed and designed by Hayedeh Kishipour.
Those who are interested can buy tickets for this show and music from the Iran Concert system.
End of message
Suggest this for the front page