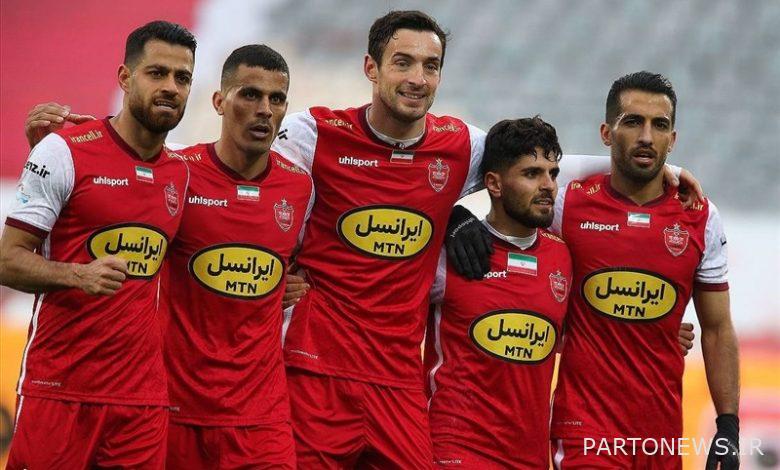 According to Tasnim news agency, five matches of the 15th week of the Premier Football League were held today (Thursday) in which 12 goals were scored and half of these goals were scored in the match between Persepolis and Nasaji.
With the heavy defeat they inflicted on Nasaji, the Reds got 32 points and ended the first half of the tournament with the top spot. Sepahan Isfahan won another victory at home and took the second place in the table with 27 points. Golgehar Sirjan, with a valuable win in Abadan, increased his points to 27 and with a goal difference less than Sepahan, stood in the third place.
Bandar Anzali Sailor also kept three sweet points against Naft Masjid Sulaiman at home and strengthened his position in the 13th place in the table with 15 points. Naft MIS, which experienced its 12th defeat, remained at the bottom of the table with 9 points. Mes Kerman and Sanat Naft teams have taken the 14th and 15th places with 11 and 10 points respectively and will try to avoid relegation in the second half of the season.
These results also caused Esteghlal to fall to the fourth place in the table. If the defending champions beat Tractor or draw in tomorrow's match, they will take back the second place in the table from Sepahan. However, the Blues hope to beat Traktor and increase their gap with Persepolis to two points by winning the 30th point.
The results of the matches held in the 15th week of the Premier League are as follows:
Arak Safar Aluminum – Khuzestan One Steel
Fan of Tehran 1 – Zob Ahn Safar
Sepahan Isfahan 2 – Mes Kerman Safar
Mes Rafsanjan 2 – zero arrow
Persepolis 5 – Mazandaran Textile 1
Abadan Safar Oil Industry – Golghar Sirjan 1
Sailor of Bandar Anzali 1 – Naft Masjid Suleiman Safar
The Premier League table is as follows:
In the last match of the last week of the first half of the season, Esteghlal will be the guest of Tractor Tabriz from 14:00 tomorrow. Aluminum Arak and Golgehar Sirjan teams will face each other on January 26th in the postponed match of the 13th week, which will close the first half of the season.