Balls and nets
Sport
Premier League of Volleyball Complete results of the 10th week/Horsan is the only competitor of Haraz for the half-season championship + table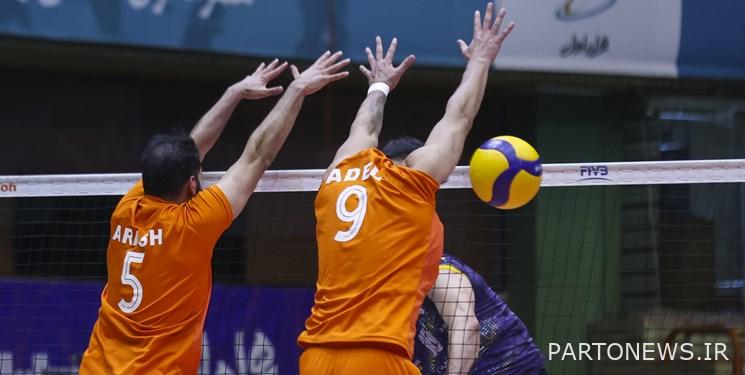 According to the sports reporter of Fars news agency, the tenth week of the volleyball championship of Iran's top men's clubs was followed on Wednesday, November 25, with seven matches in the cities of Amol, Rafsanjan, Yazd, Tehran, Mashhad, Marivan and Rasht.
The teams of Gonbad Municipality, Heraz Amol Dairy, Shahdab Yazd, Ifasram Ardakan, Horsan Ramsar, Mes Rafsanjan and Nian Electronics Khorasan won against their opponents in this week's matches.
The team of Labinat Haraz Amel is still the undefeated team of this competition and with 10 wins, it is one step away from the half-season championship, and only Horsan Ramsar team has the possibility of winning the half-season in this tough competition.
The results of the matches of the 10th week of the Men's Premier League are as follows:
Saipa Tehran 2 – Gonbad Municipality 3 (25 vs 23, 19 vs 25, 25 vs 22, 19 vs 25 and 15 vs 17)
Haraz Amol Dairy 3 – Pass Gorgan Safar (25-23, 25-22 and 25-21)
Mes Rafsanjan 3 – Gittipasand Isfahan 2 (26 vs. 24, 22 vs. 25, 13 vs. 25, 25 vs. 16, and 17 vs. 15)
Shahdab Yazd 3 – Urmia Municipality 1 (20 vs. 25, 25 vs. 19, 25 vs. 16 and 25 vs. 18)
Nian Electronics Khorasan 3 – Pikan Tehran 2 (29 vs 27, 27 vs 29, 25 vs 22, 23 vs 25 and 15 vs 13)
Pathfinder of the nations Marivan 1 – Ifasram Ardakan 3 (20 vs 25, 22 vs 25, 25 vs 21 and 23 vs 25)
Horsan Ramsar 3 – Folad Sirjan Iranian One (21 vs 25, 25 vs 14, 25 vs 21 and 25 vs 23)
The men's premier league table at the end of the tenth week of the group stage is as follows:
1- Haraz Amol Dairy has 10 wins and 28 points
2- Horsan Ramser seven wins and 21 points
3- Shahdab Yazd seven wins and 18 points
4- Pas Gorgan has six wins and 16 points
5- Nian Electronics has six wins and 15 points
6- Gonbad Municipality has six wins and 15 points
7- Pikan Tehran five wins and 17 points
8- Folad Sirjan Iranian five wins and 17 points
9- Ifasram Ardakan five wins and 14 points
10- Gitti Pasand Isfahan four wins and 14 points
11-Marivan Nations League four wins and 11 points
12- Saipa Tehran two wins and 10 points
13- Mes Rafsanjan two wins and seven points
14- Urmia Municipality one win and four points
The end of the message/T 63
You can edit this article

Suggest this article for the first page