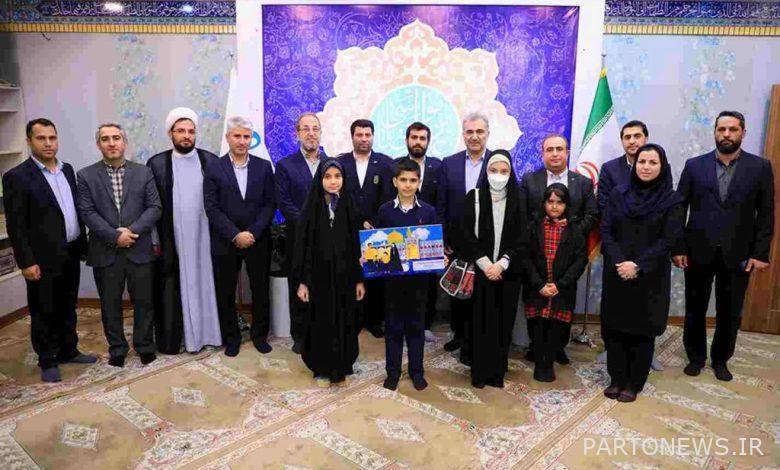 According to the financial news report According to the public relations of Bank D, in a ceremony attended by the CEO, members of the bank's cultural policy council and some officials and colleagues of the bank; A remittance of eight million tomans for traveling to holy Mashhad was given to the selected people of the campaign "A Letter to the Merciful Imam"
In this ceremony, Alireza Qitasi, the CEO, while thanking the organizers of this campaign, said: The campaign letter to Imam Mehraban, which was implemented by the Bank's Cultural Policy Council, is a valuable idea to elevate and honor the Iranian-Islamic culture and direct the youth's attention to imams. Athar and especially Imam Reza (a.s.).
He continued: God willing, the winners of this campaign will be Naib al-Ziarah of all colleagues and customers of the big family of Bank D in Mashhad Al-Reza.
It should be mentioned that in the "Letter to the Merciful Imam" campaign, which was held with the aim of introducing the writings of children and teenagers to Imam Reza (AS), especially for children aged 7 to 15 years of the large family of Bank D, eight selected participants were given travel expenses to holy Mashhad. became
The names of the winners are as follows:
Nazanin Fatemeh Mohammadi, the child of a colleague of the Physical Protection Department
Kausar Aghazadeh, the son of a colleague of the Physical Protection Department
Arin Abdullahi, the son of a colleague of Ekbatan branch
Amir Ali Quaid Rahmati, the son of a colleague of Khorram Abad branch
Narges Reofi Rad, the son of Sabzevar branch colleague
Ainaz Shabani, the son of the co-worker of Hafez branch
Sepehr Babaei, the son of a colleague of the Inspection Department
Dina Jamali, the son of a colleague of the Bandar Abbas branch