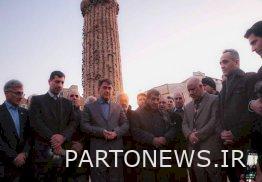 According to the Arya Heritage report and quoted from the public relations of cultural heritage, tourism and handicrafts of West Azerbaijan, engineer Ezzatullah Zarghami said today, 20th of January, during his visit to the Shams Tabrizi Khoi project: the existence of the tomb of Shams Tabrizi in the city is rooted and with an identity like Khoi. has a special
He clarified: Shams Tabrizi's personality was also unique in his own way and Shams' tomb has a beautiful design and architecture.
The Minister of Cultural Heritage, Tourism and Handicrafts said: Shams Tabrizi project is currently in trouble due to credit and budget problems, and today we have traveled to Shahr Khoi to closely examine the physical progress of this project.
He continued: During the President's visit to West Azarbaijan province, a budget was allocated for the Shams Tabrizi project, but due to the government's budgetary problems, not much was allocated to it, but the Ministry of Cultural Heritage, Tourism and Handicrafts is trying to get it from the national and provincial budgets. , provide credit for it.
end of message/