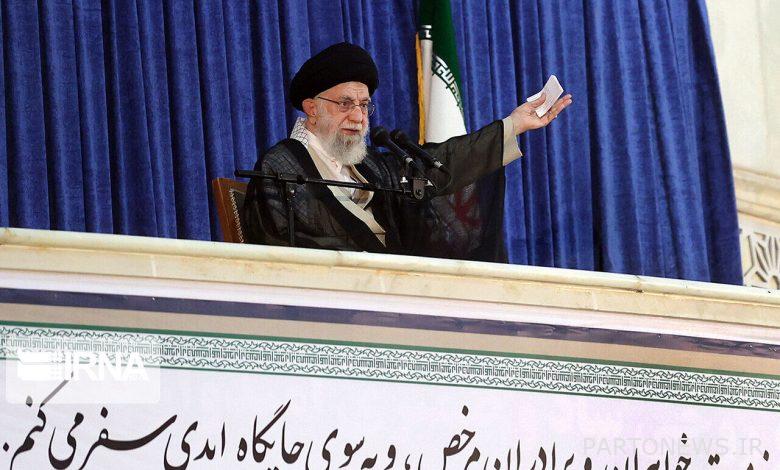 According to IRNA on Saturday, Reuters news agency, in response to the Supreme Leader's statements, headlined: "Iran's leader" enemies "created unrest in Iran to overthrow the Islamic Republic.
"Today, the most important hope of the enemies is to strike the country based on public protests … but the calculations of the enemies, like many of their previous calculations, are wrong," the British media wrote in a televised speech.
A Reuters report, republished by Switzerland Info, states: The Iranian leader on Saturday blamed the enemies for the recent protests in Iran.
The Iranian leader added that the enemies have launched a "psychological war" against Iran, accusing Iran of stealing two Greek ships after the US seized an Iranian oil tanker.
The Supreme Leader of Iran said: "Today, the enemies of Iran have the greatest hope to strike at the country based on popular protests." But their calculations are wrong
The British Express newspaper also headlined: "Iran's anger ignited: the leader of the revolution warned that the" enemies "want to overthrow the Islamic Republic."
The seizure of two Greek tankers in the Persian Gulf was a direct response to the "theft" of Iranian crude oil by Greece and the United States last month, Bloomberg reported.
Bloomberg adds that Iranian officials had previously said the ships, each carrying about a million barrels of oil, had been seized for "undisclosed violations."
According to the IRNA news agency, Ayatollah Khamenei traveled to the shrine of the Supreme Leader of the Revolution on the occasion of the 33rd anniversary of his ascension this morning (Saturday) in a passionate gathering of people. And today and tomorrow of the Iranian nation "they read and emphasized: the current young and intelligent generation needs reliable, comprehensive, accelerating and transformative software, ie the lessons, speech and behavior of the Imam, to govern the future of the country and bring the nation to glorious peaks.
He also gave important advice to the people and revolutionary, cultural, political and economic activists to prevent the de-identification of the revolution and distortion of the Imam, exposing the enemy's lies and psychological warfare, preventing the infiltration of Western reactionaries and lifestyles, and appreciating revolutionary officials. They ordered.