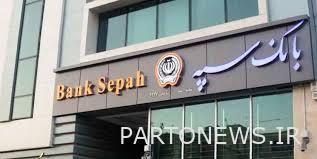 According to the financial monetary news quoted by Sepah Bank information base: in line with Sepah Bank's support programs and approaches in order to achieve the set goals in the field of receivables management and also in order to satisfy customers, support producers, economic actors and motivate customers. To pay off your debt, the "Eid to Eid" plan is implemented.
In this plan, customers who are late in paying the installments of the received facilities for various reasons and owe amounts to the bank under the title of obligation, in case of debt settlement according to the specified formula, will be subject to a maximum of 6% discount of the obligation.
The "Eid to Eid" project will start on May 4, at the same time as Eid al-Fitr, and will continue until July 18 of this year, at the same time as Eid al-Ghadir.
Dear customers of Sepah Bank, you can benefit from the benefits of this plan by visiting one of the branches all over the country, while obtaining more information.