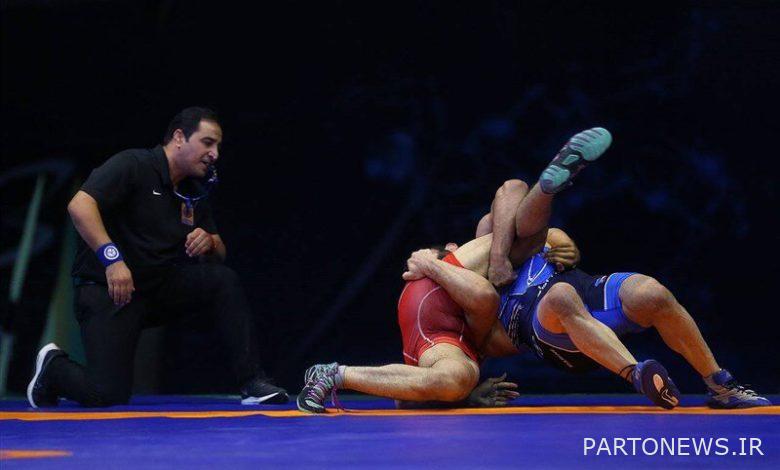 According to Mehr news agency, stage Ultimate The 22nd edition of the premier free wrestling league of the country's clubs Yadgar Imam (RA) from Morning It is being held today in Tehran's 7th Tir Martyrs Hall.
At the first Semi match Ultimate Team Petrorefining Blish Takestan won with a score of 9-1 against the Sari Stars team and went to the finals. In the other half match Ultimate Bank Shahr team with the result of 6:4 from the barrier of Ahorsazan team Hoten He passed and became the finalist of this competition.
Thus, today at 16:00, the classification match between the teams of Sari Stars and Massasazan Hoten and the final match at 19:00 tonight between the teams Petrorefining Blish The vineyard and the city bank will be held.
According to the website of the wrestling federation, the individual results of these matches are as follows (the names of the winning team are listed first):
Semi-final match:
Petrorefining Blish Vineyard 9 – Stars of Sari 1
57 kg: Alireza Sarlak 13- Ali Yahyapour Safar
61 kg: Ebrahim Elahi 10- Taha Safari Safar
65 kg: Morteza Qiyazi 5 – Javad Javadi Safar
70 kg: Gas Messenger Magmedov 10- Maziar Akbari Safar
74 kg: Younes Emami 7- Nima Ashfaghi Safar
79 kg: Pilgrim Sidakov 5- Amirhossein Kausi Safar
86 kg: Alireza Karimi 11 – Mohammad Javad Salehi zero
92 kg: Amir Hossein Firozpur 11- Alireza Sabrian 1
97 kg: Amir Ali Azarpira 2- Ismail Nejatian 4
125 kg: Amir Hossein Zare 10 – Irfan Jafari Zero
Semi match Ultimate:
TheShahr Bank 6 – Hoten Mass Makers 4
57 kg: Pilgrim Ogoev 14- Reza Momeni 3
61 kg: Abbas Gazi Magmedov 10- Dariush Hazrat Qolizadeh Safar
65 kg: Mohammad Ramzanpour 1 – Abdul Majid Kareef 6
70 kg: Mohammad Mehdi Yeganeh Jafari Zero – Amir Mohammad Yazdani 8
74 kg: Hossein Abu Zari Safar – Razan back Jamal F 6
79 kg: Ali Swadkohi, winner 5 – Mohammad Nakhudi 5
86 kg: Hasan Yazdani 11 – Ezzat God Akbari Safar
92 kg: Mohammad Javad Ebrahimi 1 – Kamran Qasimpour 2
97 kg: Mohammad Hossein Mohammadian, winner 2 – Mojtaba Gilij 2
125 kg: Amin Taheri 4- Sidamireza Desert 1