cultural and artistic
radio and TV
Sima's deputy went behind the scenes of "Khoshnam" / Determining the Ramadan series of Channel One – Mehr News Agency | Iran and world's news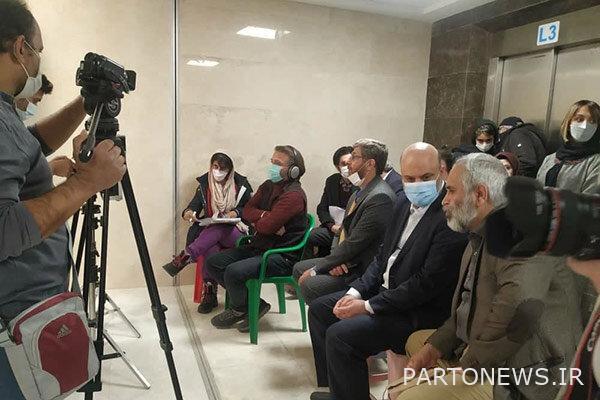 According to the Mehr news agency, quoting the public relations of the series, Hamid Shahabadi, the deputy director of IRIB, along with the director of IRIB and several other IRIB executives, visited the production process of the series "Khoshnam" directed by Alireza Najafzadeh. "Famous" series produced by Ahmad زالیWas originally designed and written by Mohsen Kiai, and Fahimeh Soleimani rewrote it for final production.
The shooting of the serial "Khoshnam" is a work of the film and serial group of the One Sima network in Firoozabadi Hospital City of Ray Done.
Ahmad زالی The producer of this TV series said: Mr. Shahabadi, the esteemed deputy director of Sima, along with the esteemed director of Channel One and other esteemed directors of the national media, visited the production process of the series "Khoshnam" today, and Meanwhile Said and say With project agents in the process of how and why production to date and schedule ریزی Making the series continued along the way.
زالی He added: "Due to the special production conditions in the last one or two years, naturally the work process is different for different projects, and we were no exception to this case due to the corona conditions, season change, number of locations, number of actors, etc." We discussed the problems ahead and the events that happened to us in the production process of this series with the esteemed deputy of Sima, and he also promised to reach the final days with more peace of mind by following up and preparing the economic conditions for the production project of "Khoshnam" series.
The producer of "Khoshnam" added: In the location of Firoozabadi Hospital, actors such as Hooman Haji Abdollahi, Farideh Sepah Mansour, Niloufar Rajaeifar, Reza Fayazi, etc. are playing, and after several foreign locations, next week the shooting of the series "Khoshnam" in The location of the equestrian club will continue with the presence of most of the main actors.
It is worth mentioning that Hamid Shahabadi, the deputy director of Sima, attended the location of the series "Khoshnam" and announced the broadcast of this series during the holy month of Ramadan. 1401 Dad.