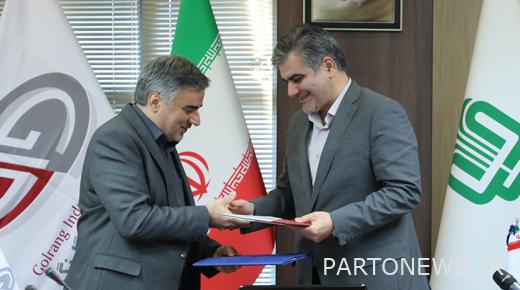 During the signing of the memorandum of cooperation with Golrang Industrial Group, it was emphasized:
According to the financial news report According to the public relations of Bank Sina, Gholamreza Fathali, head of Bank Sina, at the signing ceremony of the memorandum between Bank Sina and Golrang Industrial Group, which was held with the aim of improving the level of mutual cooperation and increasing interactions between them, considered the financing of economic enterprises as one of the most important tasks of banks and said: By creating a safe and suitable platform in various fields, Sina is trying to provide customers with added value more than in the past so that an important step can be taken in the direction of production prosperity.
Fath Ali stated that the main indicator of banking services is to facilitate and accelerate the provision of services and said: by implementing the bank's business transformation plan and smart marketing, effective steps can be taken in the direction of supporting domestic industries and boosting production in the country.
He expressed his hope that by strengthening its improvement and development programs and increasing its market share, Sina Bank will be able to provide more services and facilities to export-oriented companies and producers in the path of development and prosperity of employment.
In this memorandum, which was signed by Gholamreza Fathali, the head of Sina Bank and Masoud Sezavar Zakarian, the vice chairman of the board of directors and the deputy CEO of Golrang Industrial Group, it was emphasized on the use of banking capacities and the financial value chain of Sina Bank.
It should be noted that the members of the executive board and the board of directors of both sides of the contract were present in this ceremony.