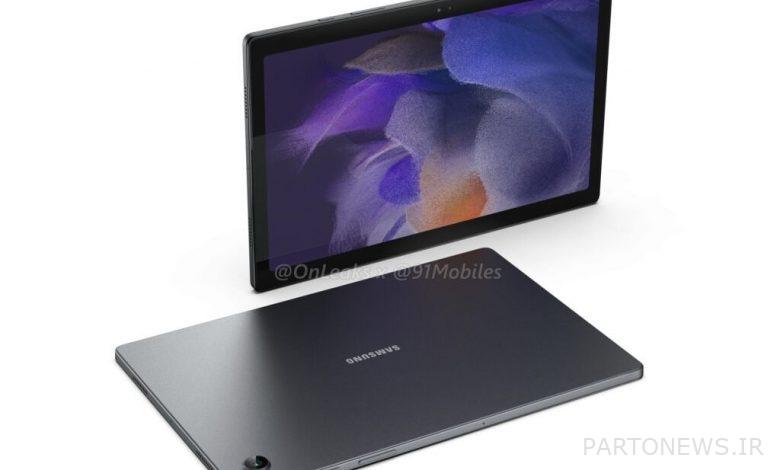 The CAD renders of the Samsung Galaxy Tab A8 2021 have just been revealed and you can now see the specifications of the device. Yogesh Brar provided information (91 Mobiles) suggesting that the tablet may be powered by Qualcomm's Snapdragon processor. According to the revealer, the Samsung Galaxy Tab E 8 version 2021 has a 10.4-inch TFT screen. This screen supports Full-HD resolution and is expected to have a standard refresh rate. Although it is rumored that this tablet will be equipped with a Qualcomm Snapdragon processor, the exact type and model of the chip is not known. Be with Chicago.
In addition, the devices of this series of Galaxy E8 tablet version 2021 have also been revealed. According to the whistleblower, this device probably has 3 and 4 GB of RAM. With 128 GB of expandable storage space, it pairs with an external memory card and uses a microSD card slot to increase memory. In addition, it is said that the Samsung Galaxy Tab E 8 2021 tablet has thick edges. This device uses a single camera for the rear panel camera. This tablet is expected to have two models. One model will be available with Wi-Fi only and the other model will be sold using LTE.
For audio playback, it is said that this tablet has four speakers with Dolby Atmos support. In addition, it takes advantage of features such as a 3.5 mm headphone jack and a USB Type-C port on the bottom edge. In terms of security, the tablet is also expected to have a fingerprint scanner on the edge of the device. Samsung has not yet announced the release date and availability of this tablet. However, due to the fact that the specifications and renderings of the image of this device leak several times, it is expected that it will be introduced in the coming months. In terms of price, the price of this tablet is expected to start below 20,000 rupees ($ 271).