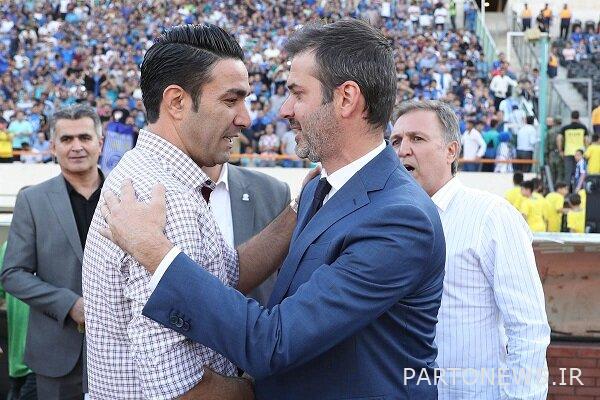 According to the Mehr reporter, the announcement of Farhad Majidi's resignation from the post of head coach of Esteghlal football team was enough for the speculations about choosing his successor to reach their peak. This issue is going on after the confirmation of Majidi's separation by Esteghlal Club, and it seems that the final selection and official introduction of Majidi's successor will continue.
One of the names mentioned instead of Majidi is Andre Stramaccioni, the Italian head coach who also led the Blues in 2009. Although Stramaccioni did not have a good start in Esteghlal at the time, he gradually made Esteghlal one of the league's most attacking and attractive teams, even pushing the Blues to the top of the table.
Stramaccioni's mission in Esteghlal, however, remained endless as the former Inter Milan coach left Esteghlal in the middle of the season and left Iran. Stramaccioni's exemplary discipline, the high technical quality of Esteghlal during his time, as well as the good memories of this coach in the minds of Esteghlal fans, made his name soon appear as Farhad Majidi's first successor on the bench.
The issue comes at a time when Stramaccioni is now having an open case in the Supreme Court of Sport (CAS), even after complaining of independence to get his previous claims.
Mehr's follow-up shows that despite the appearance of the former Inter Milan coach, Esteghlal Club has no plans to attract him. This is related first to the open case of the Supreme Court of Sport and then to the financial issues that seem to bring the coach back at a very high cost.
"We still have a case with Esteghlal that we are in court with," Stramaccioni program manager Federico Pasteurlo indirectly denied in response to the Italian coach's possible return to action today.
On the other hand, Esteghlal has been negotiating the selection of a new head coach with an Iranian coach, and if there is no particular problem, this internal option will replace Majidi. This coach is none other than Javad Nekounam, who has left a successful record in Iranian football in recent years.
Nekounam, while advancing to the Premier League with the textile team, has also won two trophies in the name of Khuzestan Steel; One championship in the National Cup and one championship in the Iranian Super Cup. In addition, Foolad has also shone with Nekounam in the Asian Champions League and will be the only representative of Iran in the round of 16.
Nekounam's good relationship with the current CEO of Esteghlal, Mustafa Ajourlou, is another issue that has led the parties to negotiate with fewer obstacles and reach an agreement. Unless there is a particular problem, Javad Nekounam, who also has a history of playing for Esteghlal, will return to his former team this time as head coach, and his mission will be to defend the Blues' championship title.