bourse
Economical
Suspicious volume of transactions in the market today, 14 January 1401 – Tejaratnews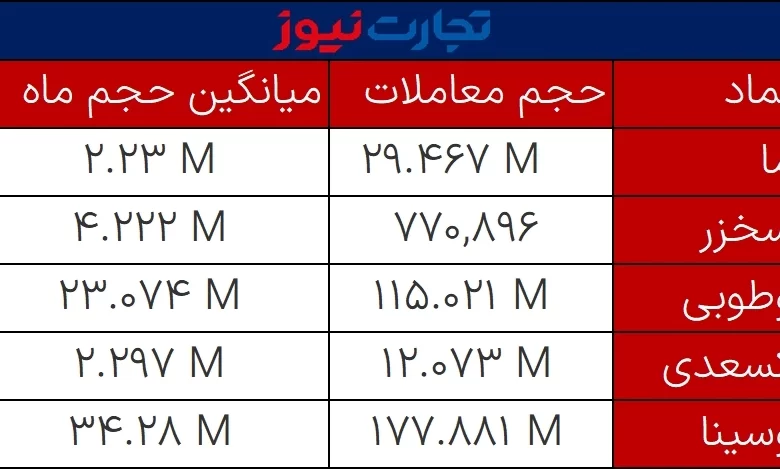 According to Tejarat News, in today's stock market, the total index decreased like the previous day. So that at the end of today's trading, the Tehran Stock Exchange showed a drop of 12,196 units, equivalent to 0.77% of this indicator.
The equal-weight total index behaved in line with the main market indicator during today's trading, and 2,217 units equivalent to 0.47 of this index decreased, which indicates that the market as a whole is red.
Also, today's stock exchange table shows the volume of transactions at 14 billion 80 million and the value of transactions at 6 thousand 69 billion Tomans.
Suspicious volume
A review of today's market transactions shows that the shares under the volume were suspicious and on average eight times the average volume of their month. In the table below, M stands for million.
The highest transaction value
During today's market transactions, the three shares of Khagstar, Khodro and Webmelt have recorded the highest value of transactions and shares of Automobile, and Trade and Day have recorded the highest volume of transactions. Also, the share of Fars also got the highest market value.
Vesina gained the highest yield of the day with an increase of seven percent. Volghdar also recorded the worst performance in today's trading with a drop of 6.98% like yesterday.
Enter smart money
The highest net real purchase was also awarded to the shares of Vepasar, Hekhshti and Webmelet. Nimrino, Vesina and Qasim also had smart money entry during today's trading. On the other hand, the stock market filters show that symbols of Kesra, Dalqma and Kassapa had smart money exits.
It should be noted that the highest per capita actual purchases were made in Goshan, Qasim and Lapiyam shares. Also, Balber registered the highest demand pressure during today's trading. On the other hand, the highest supply pressure was also in the symbol of Chafiber.
Read more reports on the stock news page.