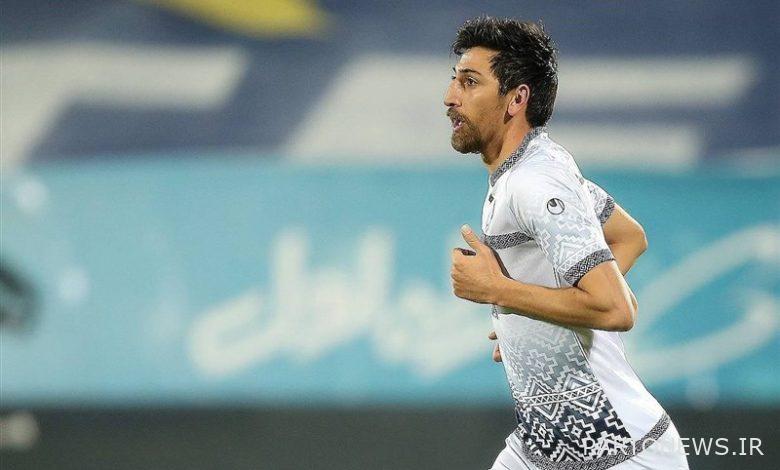 According to the sports reporter of Tasnim News Agency, Morteza Tabrizi, the tall winger of Golgohar Sirjan, scored seven goals in the Premier League and one goal in the National Cup last season and won the title of the team's top scorer. However, although Tabrizi has faced several offers, he tends to continue working with Golgohar. In an interview with a sports reporter of Tasnim News Agency, he answered various questions, the details of which are as follows:
* Tasnim: How was last season for you, are you satisfied with your performance?
First of all, I must offer my condolences to the people of Abadan, especially those who lost their loved ones in the Metropolitan incident. Thank God I had a good season overall, especially in the second half. After the cruciate ligament injury, I needed time to get closer to the situation I wanted. It usually takes several months after the injury has healed for the player to be fully fit. This year I scored seven goals in the league, five assists and one goal in the FA Cup.
* Don't you think you should score more goals?
I am satisfied with the number of goals I scored, considering that I play as a winger.
* Are you comfortable in this post or a top striker?
In Zobahan, I also had a history of playing as a winger. I am comfortable in this post and I have no particular problem.
* If seven points were not deducted from your team, could you fight for the championship?
Yes, if that did not happen, we would definitely be fighting for the championship. Unfortunately, this incident caused the team to suffer emotionally, and we lost some critical points after deducting seven points.
* After shining in the iron, you became independent. Why didn't you reach your goals in this team?
When I came to Esteghlal, I faced different situations, because I came to this team with a lot of pressure and expectations were high from me. On the other hand, the issue of consent money increased these pressures from the media, supporters and veterans. Another important point is that when a player comes to a big team like Esteghlal or Persepolis, the results are very influential in the performance of that player. You can see that Esteghlal got good results this year and there was no pressure on the players, even if they played badly or did not perform well, there was still no special pressure, because the team was getting results. When the team does not get results, many people zoom in on the smallest issue.
Q: So you think false pressure made you not reach your goals?
That was just one side of the issue, and I think I was unlucky. In Esteghlal, there were no goals that I could easily turn into goals in other teams. In general, when I was in Esteghlal, football did not work for me, and this may happen to many players in Iran or Europe.
* Are you a free agent now?
Yes.
* Would you like to stay in Golgohar?
I'm not from the hot market and I rarely do interviews. The fact is that I have some good offers, but my priority is to stay in Golgohar. Now I have to see how things go.
* What do you say about Esteghlal championship?
This team broke all records without losing and deservedly became the champion. Congratulations to Esteghlal fans and the good friends I have in this team.
* Do you agree that the technical quality of Premier League games has deteriorated compared to the past?
Yes, our league used to be of better quality, but now the situation is such that all league players are looking to become legionnaires and we have very few quality foreign players, because economic conditions do not allow teams to look for foreign players. If the quality players of the Iranian league remain in their teams and we bring in foreign players, the quality of the league will definitely increase.