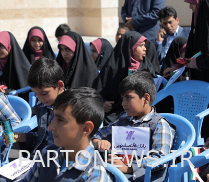 According to the financial news report, citing the public relations of New Economy Bank, in continuation of its activities in the direction of social responsibility and development of educational spaces, the Faizabad school of Abarkoh city was opened and presented to the children of our country at the same time as the beginning of the new academic year. This three-class school has been built on a land of 1000 square meters and with an infrastructure of 300 square meters.
In this ceremony, on the occasion of the beginning of the school year, all the students of this school were given stationery packages.
It should be mentioned that So far, Eqztannovin Bank has participated in the construction of 47 schools in rural and less privileged areas, of which 41 units have been put into operation and six more units are under construction and completion.