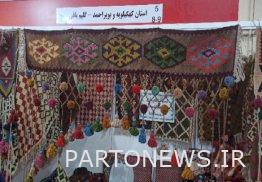 According to the Aria Heritage report, citing the public relations of the General Directorate of Cultural Heritage, Tourism and Handicrafts of Kohgiluyeh and Boyer Ahmad, Saeed Talebipour said today, Wednesday, 19th of Bahman 1401: In this exhibition, the products of handicraft artists, including the nomadic handlooms of the people of the province, are displayed.
Director General of Cultural Heritage, Tourism and Handicrafts, Kohgiluyeh and Boyar Ahmad, said: Attending national exhibitions is a good opportunity for marketing and advertising the sale of handicraft products of the province's artists.
Talebipour said: the boom in the sale of handicrafts in different rural areas of Kohgiluyeh and Boyer Ahmad will reduce the unemployment rate and reverse migration.
He continued: Participation in national exhibitions with the aim of boosting sales, increasing handicraft production workshops and empowering women in rural and nomadic areas in the field of handicrafts is on the serious agenda of this general administration.
end of message/