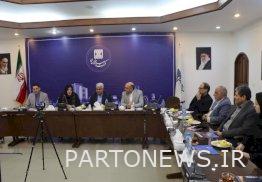 According to the Aria Heritage report, citing the public relations of the General Directorate of Cultural Heritage, Tourism and Handicrafts of Khorasan Razavi, Maryam Jalali said on the 12th of Bahman, 1401, referring to the journey to the holy Mashhad: At the time of the dawn of the Islamic Revolution, and thanks to the birth of Javad Al-Aima, Mashhad was the place of all hopes and the destination of the trip. And visiting a hotel and the idea of ​​an Iranian room with handicraft products was done in Mashhad.
He said about the idea of ​​the Iranian room in hotels: the implementation of this plan in hotels can create employment, create excitement and stimulate demand, also tourists can produce new and up-to-date designs of hand-woven fabrics, pottery, sofas and chairs, zilo and curtains. get to know traditional arts and crafts.
He emphasized: With creative design and the use of traditional arts and crafts in hotels, the rooms will become a model of Iranian homes.
Pointing to the implementation of the idea of ​​the Iranian room in hotels and the beginning of innovation and the knowledge of establishing handicrafts from Mashhad, he said: Any action taken in Mashhad will gain strength and increase exponentially because there are many eyes towards Mashhad and Mashhad is in the spotlight. and he is a master in highlighting the concepts, we can benefit from these highlights and start modeling the strengthening of the desired attention from Mashhad, this is the strengthening of the attention of handicraft strategy in the new era.
Referring to some industries as drivers, he stated: Handicrafts can be the drivers of progress with the help of women, and this time we have seen them in the form of families and making Iranian homes productive, which is the distinguishing feature of handicrafts that defines the driver and not the product.
Also, the Deputy Minister of Handicrafts of the Ministry of Cultural Heritage, Tourism and Handicrafts in this trip from the Innovation Center of the country's jewelry in Mashhad, the Khorasan Guards Complex and the Iran Handicrafts Center Design, Mosli Mashhad Arts and Crafts Creation Center, the design site of the National Gems Center and Mashhad Hotel, the collection He visited Razavi's business affiliated with Astan Quds Razavi and met and talked with Khorasan Governor Razavi.
end of message/