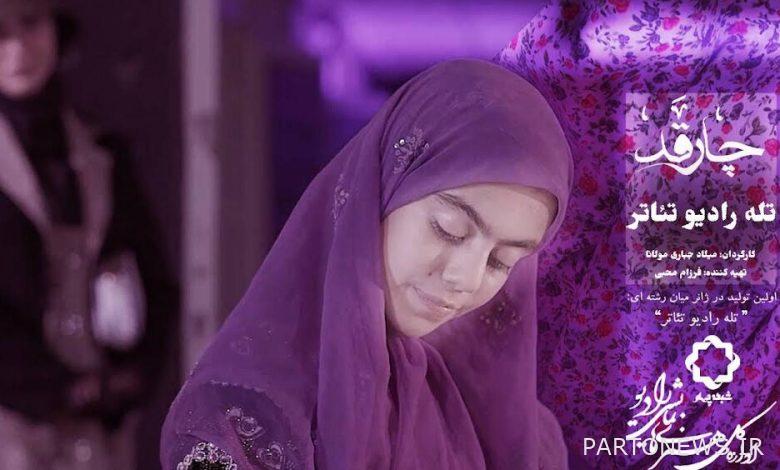 According to Mehr News Agency, citing the public relations of Radio Show, "Chargad" is the first work that deals with the uprising of Goharshad Mosque in the interdisciplinary genre of tele-radio-theater. In the production of this work, efforts have been made to pay attention to all the specialized aspects and for the first time to introduce a new genre as tele-radio theater to the audience.
"Chargad" produced by Farzam a lover and directed by Milad Jabari Molana, and from tonight, July 21, at 19:00 from the antenna TV channel four is broadcast.
Other factors include; Assistant director: Mohsen Javaheri, written by Mohammad Ahmadzadeh Heravi. rewrite And Dramaturge: Milad Jabari Molana, acting: Masoud Niazi, Shima Jan Ghorban, Marzieh Agassi, Mahmoud KameshgaranShahrzad Khoshqamet Aziz, Alireza Behjati Kloche, Alireza Thabiti, Erfan Zarei, Zahra Arab, Farshad Qaradaghi, Hamidah KhaldiParsa Pirasteh, Abolfazl Zulfiqari, Nireh Gharib, Samira Moghadam, Nilufar Siari, Samia Farahani, Fatemeh Khosravi, minor actress: Baran Hashemi, production manager: Hamida KhaldiProduction Assistant: Fatemeh Khosravi, Stage Secretary: Maryam Shirzad, Cinematographer: Majid Kohi, Photography Assistant: Ali Akbar Ashna, Sound Recording: Amir Hossein Saeedi F recording assistant: Mehyar Abdulahi Dizziness Chiraghi, make-up designer: Atefeh Rezaei, make-up manager: Atefeh Rezaei, Majid Arian Por program fine: Sajede Nik Sefat, editing and credits: Toraj Ghorbani Moghadam, photographer: Safa Asadian, teaser: Sajede virtuous typography: Kindness pyrolianvirtual space: Fatemeh Khosravi and, procurement: Maliha Hassanzadeh At the age of village.