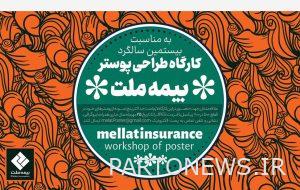 According to the financial news report, citing the public relations of Bimah Mellat, based on the published call, this workshop was held in order to benefit from the creative works and new ideas of graphic artists and to create a poster bank of Bimah Mellat in November 1402 with the presence of one of the professors named Hoza The graphic of the country will be held.
To participate in this workshop, those interested can send up to five samples of their posters in 500 x 700 pixels in JPEG format by October 25 of this year along with biography, address and contact phone number to melatposter@gmail.com.
After evaluating the submitted works, 25 qualified artists will be invited to participate in the three-day workshop held in Tehran.
In addition to the certificate of appreciation, the first winner of this workshop will receive one hundred million Rials, and the second and third winners will receive a cash prize of seventy and fifty million Rials, respectively.