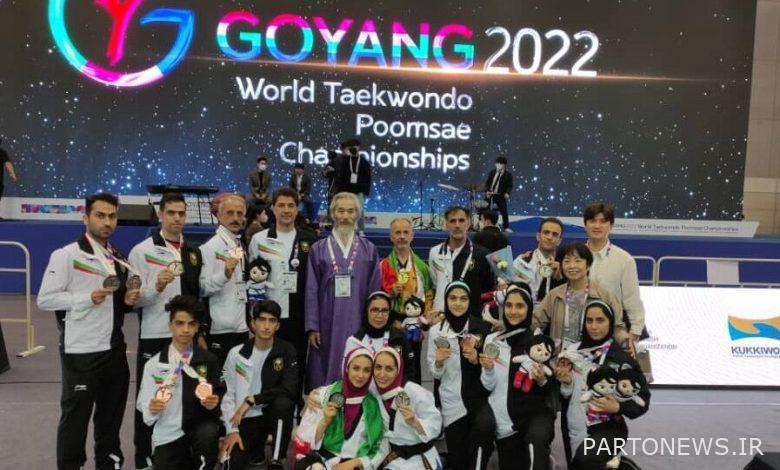 According to IRNA; The twelfth edition of the World Pumice Championships, hosted by the city of Guyang, South Korea, started on May 1 with the participation of 760 athletes from 63 countries, and ended today, Sunday, with the host championship.
Iran's national pumice team with 13 taekwondo fighters in a total of two sections for men and women with the composition of Fatemeh Salmanizadeh, Marjan Salhshouri, Atosa Farahmand, Sanaz Taghipour, Shima Nesaji, Amir Ali Alizadeh, Yasin Zandi, Ali Salmani, Mohammad Taghi Hatami, Nader Khodamradi, Hadi Torkashvand , Ali Nadali and Hossein Beheshti participated in these competitions and won a gold, 4 silver and 4 bronze medals.
Nader Khodamradi in the age group of 65 years won the only gold of the Iranian national team in this period of competitions. Four silver medals by Marjan Salhshouri in the under 30 age group, a three-member team in the junior age category (Taghipour, Nesaji and Salmanizadeh) and men over 30 (Nadali, Salmani and Beheshti) and a two-member team in the over 30 men ( Beheshti and Farahmand) was obtained. Amir Ali Alizadeh and Fatemeh Salmanizadeh also won four bronze medals in the individual category of 15 to 17 years old, Hadi Torkashvand in the age category over 65 years old and a two-man team (Alizadeh and Taghipour).
During this period of competition, a spell was broken and history was made. After 10 years, Alizadeh won Iran a medal in the boys' category in the world competitions, and on the other hand, Nader Khodamradi, the representative of Iran in the under-65 age category, won a valuable gold medal for the first time in his first appearance in the world championships.
At the end of this period of competitions, the national team of Iran Pumseh, which had gone to the world competitions with 9 national shirts less than the previous period, won the gold, 4 silver and 4 bronze medals in the fifth place in the medal table.
South Korea won 20 gold, 6 silver and 2 bronze medals. Chinese Taipei with 4 gold, 8 silver and 7 bronze, USA with 3 gold, 8 silver and 16 bronze, Spain with 3 gold, 1 silver and 4 bronze are in the first to fourth places, respectively.
In the 11th edition of the 2018 World Championships hosted by Chinese Taipei, Iran won 4 gold, 1 silver, 9 bronze medals and reached the fourth place with the participation of 22 taekwondo fighters.