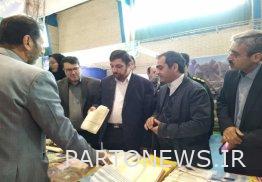 According to the Aria Heritage report, quoting from the public relations of the General Directorate of Cultural Heritage, Tourism and Handicrafts of Khorasan, Razavi Hamidreza Mahmoodi Qozhdi announced this news today, Tuesday, 18 Bahman 1401, and added: The glorious Islamic Revolution is the most important contemporary historical event in Iran, which arose from the rich Ashura culture of the people of this land. This great popular movement is the identity and birth certificate of all Iranians.
The head of the Cultural Heritage, Tourism and Handicrafts Department of Gonabad city continued: This important historical event was not only a revolution that shook the world, but today, when we see the cry of anti-arrogance in other countries of the world, it is a legacy that the Islamic Revolution of Iran remembers. has put
Mahmoudi Qozhdi added: Every year, the blessed decade of Fajr is a good opportunity to explain the valuable achievements of the glorious Islamic revolution to the young and future generations.
Mahmoudi explained: In this regard, the Department of Cultural Heritage, Tourism and Handicrafts of Gonabad city together with Qanat Qasbah World Base in the form of one booth and handicraft artists in the form of 5 booths in the fields of tun-weaving, doughabi pottery, molded pottery, and enameling on pottery. , ceramics and operators of tourism facilities were present in the form of a booth.
He said: This exhibition will be open to the public from 14th of Bahman until the end of the decade of Fajr at the 9th hall of Gonabad city in the mornings from 9:00 am to 12:30 pm and in the evenings from 5:00 pm to 9:30 pm.
end of message/