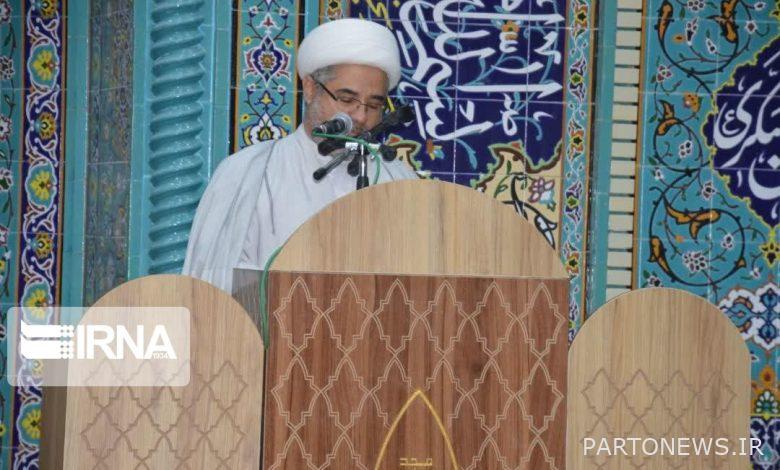 According to IRNA, Hojjatoleslam Hashem Abu Khamis on Sunday night during the commemoration ceremony of Martyr Haj Qassem Soleimani in Imam Hassan Mojtaba (AS) Mosque in Mehriz added: "The presence of American forces in Iraq and the region has resulted in nothing but destruction and killing for the people."
In honor of the memory of this great martyr, he mentioned a memory of him in the relentless struggle against the terrorist group ISIS in Iraq and continued: The destruction of this takfiri group is due to the planning, efforts and zeal of Martyr Soleimani and his comrades.
The Iraqi cultural activist said: "The Iraqi people and Hezbollah will never forget Soleimani's sincere sacrifice in rescuing Iraq and some Islamic nations from ISIS, and his memory is alive in this country."
Abu Khamis stated: Martyr Soleimani was in practice a man of the field, jihad, sincerity, martyrdom and governorship, and his goal was the promotion of Islam and the defeat of arrogance in the region, which he finally achieved.
He added: "The continuation of Martyr Soleimani's path is perseverance and patriotism, and all the fighters of the Resistance Front must perform their human and religious duties more than before in the direction of the full realization of his goals."
The deputy director of Hezbollah's book communications office in Iraq said: "Sardar Soleimani's role in the developments in the region was very effective in various fields, and this led to the greatness of the goals and plans of this martyr and continues."
Abu Khamis stated: The Muslim people of Iran and Iraq, with empathy and the spirit of faith and sincerity, will never lose their endurance in order to continue the path of the martyrs, especially Soleimani.
A mourning and mourning program was performed at the ceremony.
On the morning of Friday, December 4, 2009, Sardar Qassem Soleimani was killed in an American helicopter attack at Baghdad airport, in which Abu Mahdi al-Mohandes, commander of Hezbollah in Iraq and deputy head of the Iraqi People's Mobilization (Al-Hashd al-Shabi), and a number of other Iraqi fighters were killed. The attack was carried out on the direct orders of then-US President Donald Trump.
The center of Mehriz, a city of 55,000 people, is located 30 km south of Yazd.
.