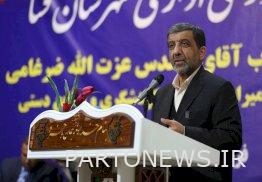 According to Aria Heritage, Seyyed Ezzatullah Zarghami said in the meeting of Fasa County Administrative Council: Fasa is really a spectacular city and I consider it my duty to transfer the values ​​of this city. Meeting with the family of martyr Hajji was one of my honors during my previous trip to Fasa.
He added: The Fasa Culture Museum depicts the history of civilization and the course of civilization and is a suitable museum for the new generation, and we see the honorable cooperation of the personalities and faces of Fasa in this museum.
He continued: Cultural heritage is a collection of tangible and intangible heritage, and so far 2 thousand intangible heritages have been registered in the national register, which are the lifestyle and pattern of our ancestors from the past to the present day.
Zarghami stated: We must become the leader of the world in terms of preserving the country's intangible heritage because it plays an effective role in educating the new generation.
He continued: "The biggest negation today is to make people pessimistic about the principle of religion." We should always put the use of kind and kind language at the top of the list, and we should put faith and righteous deeds together, which is specially emphasized in the Holy Quran.
In the end, Zarghami said: Narrating history in museums is very important and can play an important role in transferring intangible heritage.
end of message/