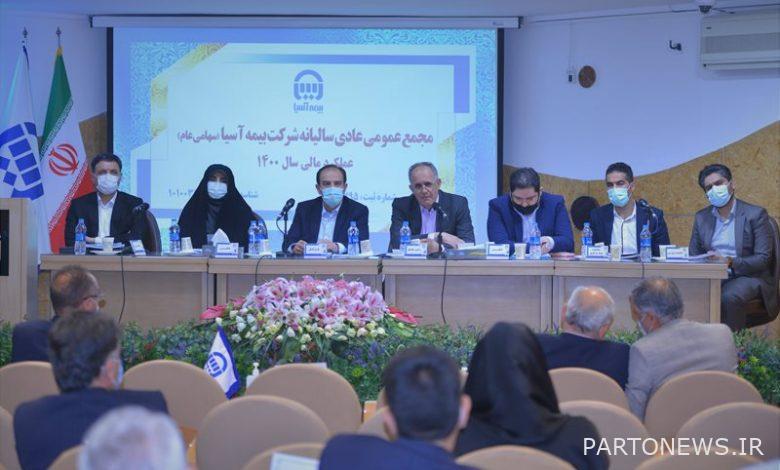 According to the financial news report, quoted by the public relations of Asia Insurance, at the beginning of the annual general assembly of Asia Insurance, Fazullah Moazzami, the chairman of the board of directors of the company, as the chairman of the assembly, in a statement about the efforts and successful performance of Asia Insurance and the valuable efforts of the employees and The sales network of this company appreciated.
In the continuation of this meeting, Masoud Badin, Vice Chairman of the Board of Directors and CEO of Asia Insurance, citing the report of the company's activities presented by the Board of Directors to the assembly and shareholders, announced the premium production of this company in the year 1400 amounting to 128 thousand billion Rials. Kurd, which considering the pattern of reforming the structure of the insurance portfolio, has been associated with 53% growth, which is significantly higher than the 41% growth of the insurance industry this year.
The Vice Chairman of the Board of Directors of Asia Insurance announced that the loss ratio of this company in 1400 was 53% and stated that last year, Asia Insurance paid 67 thousand billion rials in damages to the policyholders and the victims, but it was able to pay the damages accurately and quickly. by applying appropriate risk assessment and careful monitoring, reduce the loss ratio compared to previous years and also compared to the 56.4 percent loss ratio of the entire insurance industry this year.
The CEO of Asia Insurance, referring to the 11.1% share of Asia Insurance in the total insurance market and 16% of the country's private insurance market, expressed hope that considering the conditions of the country's insurance market after the outbreak of the Corona virus, the growing trend of Asia Insurance's share from May the country's insurance industry continue in 1401.
In the continuation of this meeting, the report of the auditor and legal inspector on the performance of Asia Insurance in 1400 was presented, and for the first time, no important audit clause was found in this report. The only conditional clause announced in this report is related to the issue that originates from the discrepancy between Accounting Standard 28 and Regulation 58 of the Supreme Insurance Council, which is usually found in the financial reports of all insurance companies.
Approval of financial statements for the year 1400, distribution of 120 rials of profit per share among shareholders, approval of the budget in order to fulfill social responsibility, selection of auditing organization as auditor and legal inspector and selection of information newspaper as a widely circulated newspaper to include Asia insurance advertisements, from The most important decisions of this general assembly were
The Annual General Assembly of Asia Insurance started at 9 o'clock on Wednesday, July 22 of this year, and its live broadcast was provided through the information platform of Asia Insurance Company.