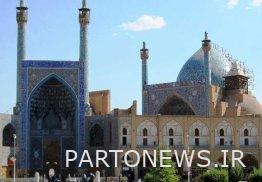 According to the report of Arya Heritage, Ali Darabi appointed Iskander Mokhtari, Seyed Morteza Farshtenejad, Mehrdad Hijazi and Alireza Ezdi as members of the Supreme Council for the Supervision of Cultural Heritage Preservation and Restoration in separate decrees.
The main task of the members of this council is to examine the state of restoration of the dome of the Abbasi Grand Mosque (Masjid Imam) and find out about possible defects in the restoration.
In the text of the decree of the Deputy Minister of Cultural Heritage addressed to the members of this Council, it is stated:
"In view of your commitment, expertise and valuable experiences and the importance of protecting unique world and national works in Isfahan, by this notification you are appointed as a member of the "Supreme Council for the Preservation and Restoration of Cultural Heritage" of that province.
According to the order of the honorable minister, Mr. Engineer Zarghami, your priority is to examine the condition of the restoration of the dome of the Abbasi Jame Mosque (Masjid Imam) and investigate possible defects in the restoration. The brilliant heritage works of Isfahan must have a comprehensive system for preservation, restoration and restoration.
It is hoped that by using the valuable knowledge and experience of all your professors and seniors, you will be successful in advancing the sacred goals of the Islamic Republic of Iran and achieving the policies of the relevant ministry.
Mr. Yazidi is the chairman of the council and will regularly submit progress reports to me."