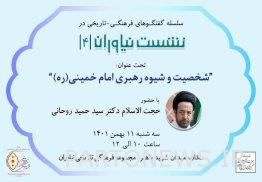 According to the Arya Heritage report and quoted from the public relations of Niavaran historical cultural complex, in this meeting, which will be held on Tuesday 11th of Bahman 1401, Dr. Hojatul Islam Seyyed Hamid Rouhani, a researcher in the field of contemporary history and a historian of the Islamic Revolution, is going to examine the manner and conduct of the meeting. Imam Khomeini's leadership during the formation of the movement from 1342 to the days leading to the victory of the Islamic Revolution.
Niavaran meetings deal with important historical and cultural issues and participation in these meetings is free for the public.
The fourth session of this meeting will be held on the 11th of Bahman, from 10:00 am to 12:00 pm in the historical cultural complex of Niavaran, located in Shahid Bahonar square (Niavaran).
end of message/