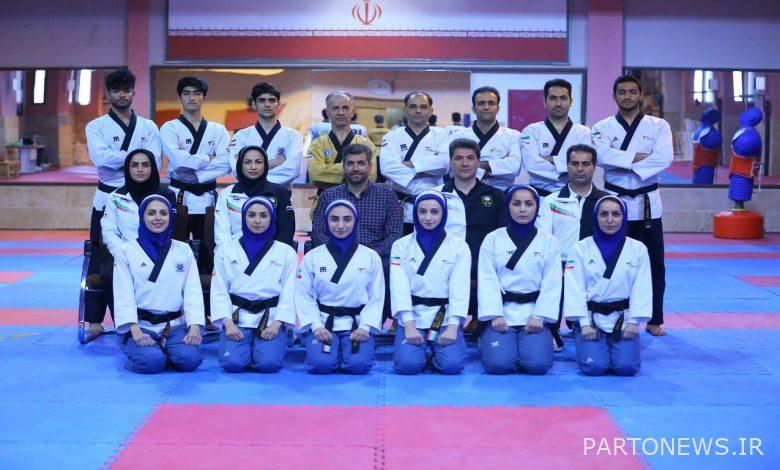 According to IRNA; The seventh round of the Asian Pumice Championships was attended by 157 taekwondo fighters from 34 countries today, Thursday, at the Huban Hall in Chancheon, South Korea.
Our national pumice team with the composition of Ali Nadali Najafabadi, Morteza Zandedel, Nader Khodamradi, Amirreza Mehraban, Ali Sohrabi, Yasin Zandi, Hossein Beheshti, Akbar Forouzan, Marjan Salhshouri, Mahsa Sadeghi, Marjan Taji, Seyedeh Mina Hashemi, Yasman Limousham and At Two men's and women's divisions took part in the event, which resulted in the team winning a gold, six silver and one bronze medal.
The names of the Iranian medalists are as follows:
Gold
A two-person team over 30 years old, Hossein Beheshti and Farahmand Parsa
silver
A team of 3 people in the age group over 30, Ali Nadali, Hossein Beheshti and Akbar Forouzan
A team of two people under 30, honest and kind
Ali Nadali in solitary confinement over 30 years old
Marjan Salhshouri in solitary confinement under 30 years
Atosa Farahmand in solo over 30 years old
Nader Khodamradi in solitary confinement under 65 years old
Bronze
Yasin Zandi in the standard section in the age group of 18 to 30 years
Jasmine Limucci in the innovative section in the age group over 17 years
Morteza Zandedel in the innovative section in the age group over 18 years
The Iranian national team is waiting for the announcement of the organizing committee to determine its position in the final ranking of this tournament.