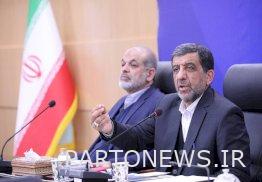 According to the report of Aria Heritage reporter, engineer Seyyed Ezzatullah Zarghami today, Wednesday 19th of Bahman 1401, in the meeting of governors across the country, which was held in the presence of the Minister of Interior Ahmed Vahidi, which was held on the sidelines of the 16th International Tourism Exhibition and the 36th National Handicrafts Exhibition and at the Tehran International Permanent Exhibition. He said: I thank the governors and deputy ministers of the interior ministry for holding this exhibition. Because they know the work by themselves and they organized this exhibition with effort and taste, which even some believe that this exhibition is exemplary in the Middle East.
He added: What can be said in one word is that each province should focus on one or two things to develop its activities. One of these important axes is tourism. If tourism flourishes, it creates employment, distributes wealth, and even solves security and political issues. The way to increase the province's income is tourism. Because tourism is an economic sector. During the term of office, the governors should take effective measures in the field of tourism to make it memorable for the people.
Engineer Zarghami added: My frequent presence in the provinces is to see the issues closely and resolve these issues. For example, many times an investor in the province is an issue. Someone should knock under the table and solve his problem. We delegated authority to the provincial general managers and this delegation of authority is also given to the governors in necessary cases to help us implement the missions of this ministry.
The Minister of Cultural Heritage, Tourism and Handicrafts continued: Of course, when we talk about tourism, it must also include handicrafts and cultural heritage. It does not matter in the name of who or what institution the actions and projects are carried out. It is important that the work is done well and followed up.
Engineer Zarghami, referring to the President's order regarding the construction of handicraft bazaars, said: According to Ayatollah Raisi's order, we should establish a handicraft bazaar at the entrance of every city.
He pointed to the provision of tourism infrastructure and added: We are moving forward with the issue of sanitary services, which is one of the most important issues in the field of tourism. We have talked to the Ministry of Roads about this. The plan is to build places in the form of restrooms, prayer rooms, one or two shops and stalls, as well as some boards introducing attractions in suitable places. This issue has been approved and it can be implemented in all cities and provinces.
end of message/