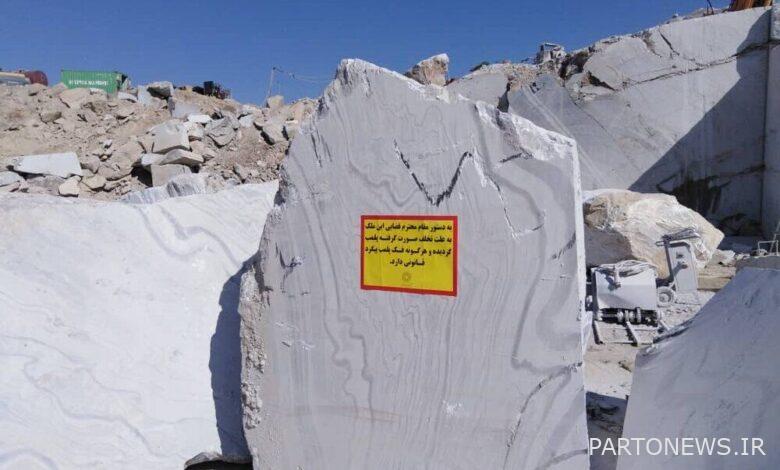 According to the report of Arya Heritage, citing the public relations of the General Department of Cultural Heritage, Tourism and Handicrafts of Khorasan Razavi, Hojatul Islam Nasrullah Pazhmanfar announced this news to reporters today, Monday 27th of Shahrivar 1402, and added: "Dizdar" historical works and petroglyphs in March 2016 It is registered in the list of national monuments and the activity of the mentioned mines is considered a threat to the historical rock patterns of these petroglyphs.
While appreciating the recent visit of the Minister of Cultural Heritage, Handicrafts and Tourism to the historical complex of Dizdar, the head of the Article 90 Commission said: "The follow-up of the Ministry of Cultural Heritage with the Ministry of Industry, Mining and Trade to cancel the license of the illegal mines is ongoing, and legal correspondence has been carried out in this regard." .
He reminded: Before this, cultural heritage experts were sent to the mines of the region, since these mining units have not taken any action to stop their activities.
Hojjat-ul-Islam Pejmanfar pointed to the discovery of new petroglyphs in this area and stated: the activity of mines in this area has damaged valuable historical motifs and has caused public protests by lovers of cultural heritage, therefore, the license of these mines has been canceled due to the efforts of the cultural heritage custodians.
"Dizdar" historical and civilizational valley at the beginning of Shandiz road is one of the historical places of Razavi Khorasan with national registration, which are located at a distance of about eight kilometers from Mashhad and on the side of the road to Shandiz city.
The area of ​​Targaba Shandiz city starts after the Engineer Beam Bridge and the end of Vakil Abad Boulevard in Mashhad and is limited by the Mashhad-Qochan road from the north. This city is bordered by Neishabur city from the south and Golbahar city from the west.
After Mashhad and Neyshabur, Shandiz is considered to be the most important tourist and tourism city of Razavi Khorasan province, Shandiz city has also been chosen by the government as the first international model tourism region of Iran in 2004.
According to the announcement of service agencies, the number of residents of Targahba and Shandiz cities is about 80 thousand people, and this population lives in 2 cities of Targahba and Shandiz and 39 villages with rural areas.
Also, this city has 47 natural and historical works of national registration and an anthropological museum.
end of message/