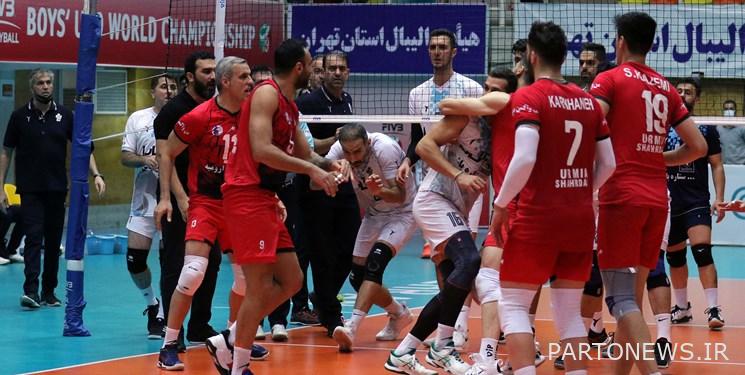 According to Fars News Agency, the thirty-fifth round of the volleyball tournament of the top men's clubs of Iran, "Sardar Delhaha" Cup, started on the second Sunday of November, and the preliminary round of the tournament ended on Wednesday, December 1st.
The organization of the league according to the request of some teams to change the way of holding the return round and the special importance of holding the Premier League of the country's clubs in the return round and playoff stages, as well as paying attention to the players' health, using video check system, preventing unnecessary traffic. Flight and ground routes, the outbreak of the new Corona virus (Omicron), the decision of the Corona headquarters and the Sports Medicine Federation not to allow spectators to participate in the competitions and to respect the suggestions and requests of the clubs regarding holding the finals in the form of two wins from three games. He suggested the continuation of the volleyball premier league matches as follows:
Method One: Based on the decision of the coordination meeting with the clubs (June 23), holding the return stage according to the previous years in accordance with the round trip program in the host cities and the playoffs in a centralized manner.
The second method: focused on hosting the city of Tehran in two halls, 3 games per week with a one-day break and a week break between weeks and the final as two wins and three games
Premier League clubs announced their opinions by the end of office hours today (Sunday, January 25), and the first method resulted in a majority vote of the clubs.
Accordingly, eight clubs of Gorgan Pass, Gonbad Municipality, Peykan, Haraz Amol Dairy, Horsan Ramsar, Azarbatari of Urmia, Sirjan Steel and Varamin Municipality voted in the first method and 6 teams of Mobarakeh Sepahan Steel, Saipa, Shahdab Yazd, Rafsanjan Copper, Municipality Urmia and the leader of the nations of Marivan voted in the second way, namely holding the return round of the Premier League.
Thus, with the vote of the majority of teams (8 out of 14), the return round of the Men's Premier League will start on Sunday, January 3rd, according to previous years, in accordance with the round-robin schedule in the host cities. Tehran will be held.
End of message /
Suggest this for the front page
.