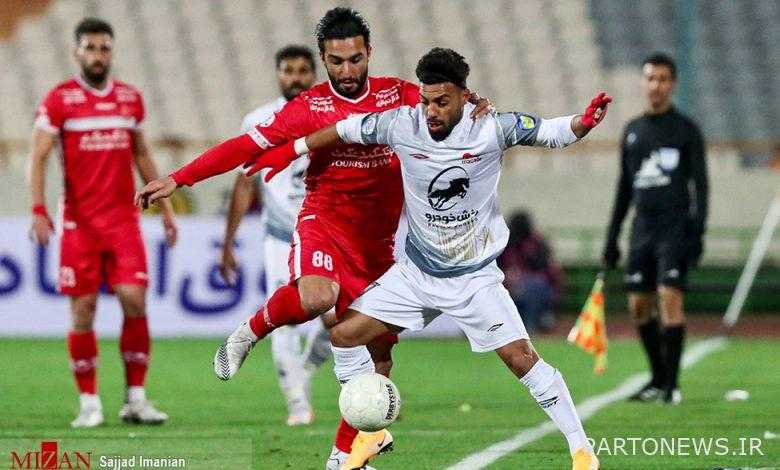 Mizan News Agency – Week 13 Football Premier League It was followed by holding 8 matches, which were accompanied by the victory of Mes, Sepahan, Gol Gohar, Persepolis and Zobahan teams against their opponents. 3 The other match ended in a draw.
At the end of this week's competition, Persepolis reached the top of Esteghlal with 28 points thanks to a 2-0 home victory over Traktor.
Esteghlal also gained 29 points despite a one-on-one draw with Arak Aluminum and kept the top of the table. Sepahan also remained in third place with a 2-0 victory against Padideh with 25 points.
in this week World Christmas The striker of Zobahan fighter was named the best player with 2 goals that he scored in Fajrspasi goal.
In this week's selected team, Sepahan has the most representatives due to Pergol's home victory against Padideh with 4 players. Isfahan Steel and Rafsanjan Copper also have 2 representatives in the selected team this week. On this account, Isfahani teams with 6 players have a major share in the selected team this week, so that this team can somehow conquer the players of Diar Zayandehrud.
This week's selected team based on expert opinion and player performance based on the basic 4-4-2 system is as follows:
Goalkeeper: Davood Noshi Sufiani (Rafsanjan Copper)
Central defenders: Goals Ghasemi (Zobahan) and Georgi Valsiani (Sepahan)
Side defenders: Daniel Ismailifar (Sepahan) and Omid Nourafkan (Sepahan)
Midfielders: Seyed Mehdi Hosseini (Rafsanjan Copper), Ali Asghar Ashouri (Sirjan Golgohar), Milad Sarlak (Persepolis) and Farshad Ahmadzadeh (Sepahan)
Attackers: Milad Jahani (Zobahan) and Peyman Babaei (Tractor)
* The results of this week's matches are as follows:
Rafsanjan Copper 3 – Abadan Oil Industry Zero
flowers: Mehdi Hosseini (30), فراز امامعلی (54) و محمدرضا سلیمانی (87) for copper
Phenomenon of Mashhad zero – Sepahan 2
Flowers: Farshad Ahmadzadeh (67) و Shahriar Moghanloo (89)
Masjed Soleiman Safar Oil – Gol Gohar Sirjan 2
Flowers: Reza Shekari (65) و Ali Asghar Ashuri (81)
Zero Supporter – Mazandaran Textile Zero
Arak Aluminum One – Independence One
Flowers: Kevin Yamga (18 – penalty) for Esteghlal / Meysam Majidi (2 + 90) for aluminum
Zobahan 2 – Fajr Sepasi Safar
Flowers: World Christmas (38 and 65)
Persepolis 2 – Tractor One
Flowers: Ice Alkithir (10) و Siamak Nemati (55) for Persepolis / Peyman Babaei (24) For tractors
Steel One – Arrow One
Flowers: Luciano Pereira (45) for steel / Peyman Ranjbari (87) for the arrow
* Premier League table at the end of the thirteenth week:
End of message /
.