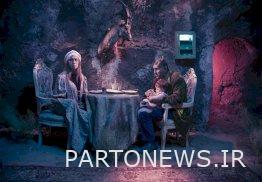 Samad Ghorbanzadeh, an Iranian photographer with his photomontages in many domestic and foreign exhibitions and festivals such as the French Video Form, Nord Art Germany, Laguna Italy, Biennial of Uzbek Photography, Sony London, Chang Thailand, Museum Savitsky Uzbekistan, Agon Annual Exhibition in Passau, Germany, Iran Photo Biennial, Benefact Gallery, Tashkent, Weberrand Weber Gallery, Turin, Italy, Mohsen Gallery, Dena Gallery, etc. . He was present in Iran, entered the field of filmmaking and made and released his first film called "Sarsaok", which is based on Iranian myths and especially Iranian myths, produced by Akram Khoshoughat Pir, director of the Pir & Pir Institute in Munich.
The story of this film is about human endeavor to achieve immortality, which is taken from Iranian myths.
Mojgan Esmailpour, Ali Azari, Pouya Shakibi are the actors and Amin Munir, Alireza Munir, Ehsan Nikroush, Arya Mehrnia are the young actors of the short film "Sirishuk".
The agents of this short film are: Writer and Director: Samad Ghorbanzadeh, Producer: Akram Khoshooqat Pir with the participation of Urmia Young Cinema Association, Director of Photography: Mohammad Mostofi, First Assistant Director and Programmer: Atabak Bakhshour, Consultant Director: Vahid Masoumi Sarai, Music : Mohammad Darabifar, Editor: Sheida Gorji, Screenwriting Group: Atabak Bakhshour, Mohammad Mehdi Moarefi, Voice Actors: Jamal Zolghadr, Akbar Sabilian, Voice Recorder: Mohammad Mehdi Javaherizadeh, Director of Photography: Mohammad Mehdi Moarefi, Costume Designer: Samad Ghorbanzadeh, Consultant Simin Maram, Color and Light Correction: Hadi Khanmohammadi Zanozi, Makeup Designer: Shahram Valipour, Makeup Assistant: Ali Shahsavar, Visual Special Effects: Aref Ahmadi, Designer: Ehsan Mehdian, Production Manager: Ehsan Nasri, Finance: Pantea Rezapour, Group Cinematography: Mohsen Khorshidi, Soheil Faraji, behind-the-scenes cinematographer: Hadi Soleimanpour, Procurement group: Muharram Ahmadi, Bayram Ghorbani, Jafar Darvishzadeh, stage group: Mehdi Karimi, Faraz Gholizad, in collaboration with the Azar Image Institute of Sana and the SAFPEM Institute in France, broadcast and Distribution: pir & pir institute.