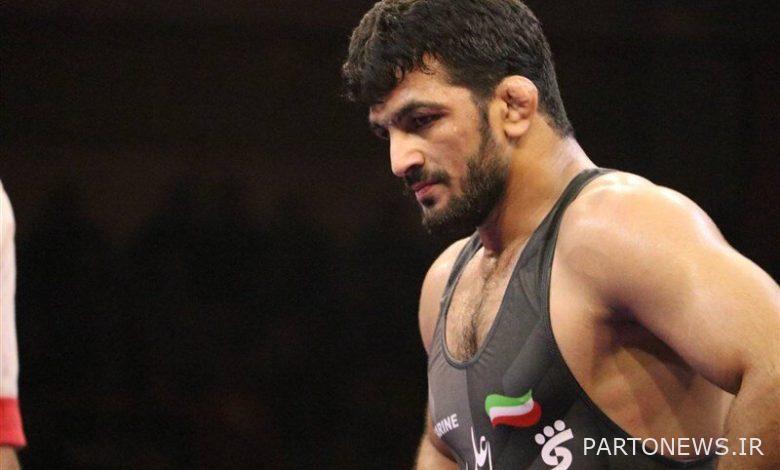 According to Mehr reporter, the World Wrestling Federation published the latest ranking of the world's best freestyle wrestlers in 2022, and now Rahman Amouzad and Kamran Ghassimpour were at the top of the 65 and 92 kg weights. Mohammad Nakhudi was announced as the third person in his weight category in 79 kg.
Meanwhile, Hasan Yazdani, as the world and Olympic champion, is in the fourth place with a noticeable drop in the weight of 86 kg, and Younes Emami and Amir Hossein Zare are in the same situation as Yazdani in the weights of 74 and 125 kg.
The World Wrestling Federation announced that the first to third place in the decathlon will be paid 5,000, 3,000 and 2,000 dollars, respectively.
Based on this, the top ranking of the world's freestyle athletes in 2022 in decathlon weights is as follows:
Weight 57 kg: 1- Thomas Gilman (USA) 2- Zalimkhan Abakarov (Albania) 3- Zanabazar Zandanbud (Mongolia) 4- Darian Cruz (Puerto Rico)
Weight 61 kg: 1- Rei Higuchi (Japan) 2- Arsen Harutunyan (Armenia) 3- Suleyman Atli (Turkey) 4- Naranjo Narmandakh (Mongolia) 5- Reza Atari (Iran)
Weight 65 kg: 1- Rahman Amozad (Iran)2- Bajrang (India) 3- Ismail Mosukayev (Hungary) 4- Sebastian Rivera (Puerto Rico)
Weight 70 kg 1- Zorabi Yakubishvili (Georgia) 2- Ernazar Akmataliev (Kyrgyzstan) 3- Taishi Narikoni (Japan) 4- Zane Rutherford (USA)
Weight 74 kg: 1- Tajmazar Salkazanov (Slovakia) 2- Kyle Dick (USA) 3- Soner Demirtas (Turkey) 4- Yunus Emami (Iran)
Weight 79 kg: 1- Jordan Burrows (USA) 2- Arslan Budajapov (Kyrgyzstan) 3- Mohammad Nakhudi (Iran) 4- Vasil Mykhaylov (Ukraine)
Weight 86 kg: 1- Boris Makoev (Slovakia) 2- Azmat Dolatbekov (Kazakhstan) 3- David Taylor (USA) 4- Hassan Yazdani (Iran)
Weight 92 kg: 1- Kamran Ghassimpour (Iran) 2- Miriani Mysoradze (Georgia) 3- Usman Nurmagomedov (Azerbaijan) 4- Jay Dan Cox (USA)
Weight 97 kg: 1- Kyle Snyder (USA) 2- Batyrbek Tsakulov (Slovakia) 3- Magomedkhan Magomedov (Azerbaijan) 4- Givi Matcharashvili (Georgia) 5- Mohammad Hossein Mohammadian (Iran)
Weight 125 kg: 1- Taha Akgel (Turkey) 2- Geno Petriashvili (Georgia) 3- Khagvagarl Munkhtur (Mongolia) 4- Amirhossein Zare (Iran)