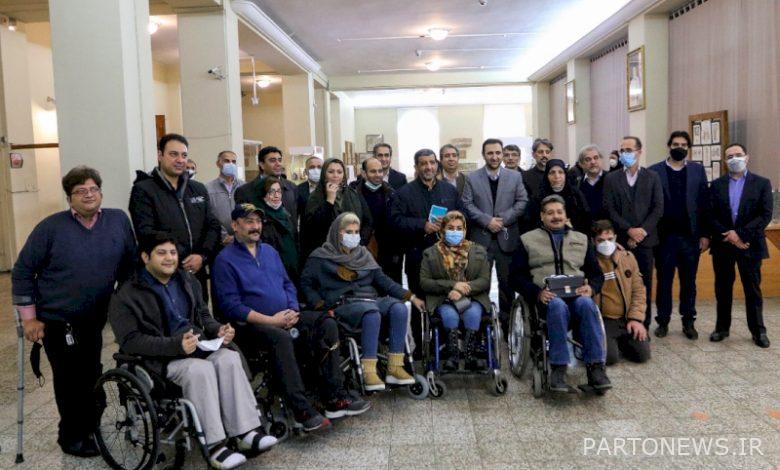 According to the Heritage Aria reporter, Engineer Zarghami, Minister of Heritage, Culture, Tourism and Handicrafts, together with Ali Asghar Shalbafian, Deputy Minister of Tourism, attended the end of the tour at the National Museum and talked about the problems of the able-bodied visiting tourist facilities and historical sites.
The Minister of Heritage, Culture, Tourism and Handicrafts said on the sidelines of the tour at the National Museum of Iran: "Every Iranian has the right to get acquainted with their identity and valuable heritage that belongs to the whole world, in terms of civilization and nationality. "Some of our compatriots have disabilities, and we have a national and human duty to inform them about their civilization and their past."
"We have started our work to introduce culture and civilization to people with disabilities, and we have planned tours and visits to museums for them," he added.
"We are trying to provide the infrastructure for these people to visit museums and historical sites," Zarghami said. "This is our concern and issue."
"Despite all the weaknesses we had in providing services to people with disabilities in the field of tourism, they were satisfied with their visit to the National Museum of Iran and announced that this is the first time in years that such an opportunity has been provided to them," said the Minister of Cultural Heritage. "This makes our responsibility heavier."
He continued: "God willing, I will follow up on the problems of people with disabilities in the government and make the necessary coordination with the relevant ministries to provide them with appropriate vehicles and services in historic buildings, and to train familiar guides on issues related to these people so that "With the help of those who have good ideas, we can expand tourism and related services."
Following this visit, Tavan-e-Yaban asked Engineer Zarghami to provide them with facilities to use the services of the tourism sector.
Lack of adaptation of urban spaces was another concern of these people.
They wanted the possibility of independent travel, accessible facilities and the training of trained staff, and expressed their readiness to use their presence in tourism marketing.
They stressed the importance of managing tourist destinations, transportation and stations, and called for proper conditions to be provided in these places, as they saw recreation as a treatment for the disabled.
They also acknowledged that there are currently no special trains or buses for people with disabilities to travel to, and that accommodation and hotels are not suitable for them.
.