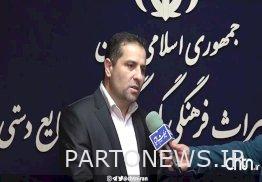 According to the Aria Heritage correspondent, Seyyed Ghani Nazari met with Engineer Seyyed Ezatullah Zarghami, Minister of Heritage, Culture, Tourism and Handicrafts, on Sunday, July 26, 1401, to discuss issues related to the ministry's mission areas in his constituency.
The MP talked to Engineer Zarghami about holding festivals in Khalkhal and Kowsar counties and called for attention and planning for holding various tourism festivals with the aim of introducing and identifying the capacities of this region.
Also in this meeting, the representative of Khalkhal and Kowsar people talked about the "Andbil" tourism project in Khalkhal and the "Pirtaghi Suspension Bridge" project with the Minister of Heritage, Culture, Tourism and Handicrafts.
Referring to the tourism potential of Khalkhal and Kowsar cities, the MP told Engineer Zarghami: "According to my deep knowledge of you, you were successful wherever you were in charge before, and what you said about the undercovering is completely true. "I also think we should get under the table and remove some cumbersome and redundant laws, because these cumbersome laws should not hinder the development of tourism."
Nazari continued: "I thank you for your valuable articles and comments in the cabinet and I invite you to travel to the cities of Khalkhal and Kowsar."
The spokesman of the Tourism Faction in the Islamic Consultative Assembly added: "Given the capabilities that you and your team have, Iran can become a superior country in the field of tourism, because it has the capacity and we only need to increase other agencies with this ministry. "They must help and the cumbersome laws in other sectors must be removed so that we can see the capacity of this ministry flourish."
During the meeting, Minister of Heritage, Culture, Tourism and Handicrafts, Engineer Zarghami, issued the necessary instructions on the issues raised by this member of parliament.