The weekend is a good opportunity for a gallery tour in the capital, and every Friday an average of 40 art exhibitions open in galleries and galleries in Tehran. "Painting" usually has the largest share in these exhibitions, but other media such as volume, layout, video art and photography also have their own share. For this reason, we are introducing some of the exhibitions that will open this week.
* "Painting" group painting exhibition
The group exhibition "Staying" with a collection of works by leading and contemporary artists will be held on June 10 at the Artibition Gallery.
The exhibition is curated by Alireza Chelipa and created by artists Mehdi Rahmi, Mohammad Masavat, Ali Ganjavi and Amir Hossein Bayani.
Alireza Chelipa wrote in a part of the statement (statement) of this exhibition: "Cultural need. The nature of culture as the creator and maintainer of society, including subcultures and the general culture of a geography, and human relations and the basis of contemporary thought requires the development and aesthetics. Social culture is defined in the context of art, thought and dialogue. Image-based structural art (what has an imaginative meaning) creates in the body of culture and flourishes creativity. "The need to stay that way today seems to be more vital than ever."
Those who are interested can visit the exhibition "Staying" in the Art Gallery at the address of Shariati St., not far from Hemmat Highway, Golnabi St., Ahmadi Roshan Square, Sasanipour St., Ghandi Alley, No. 6, until June 20th.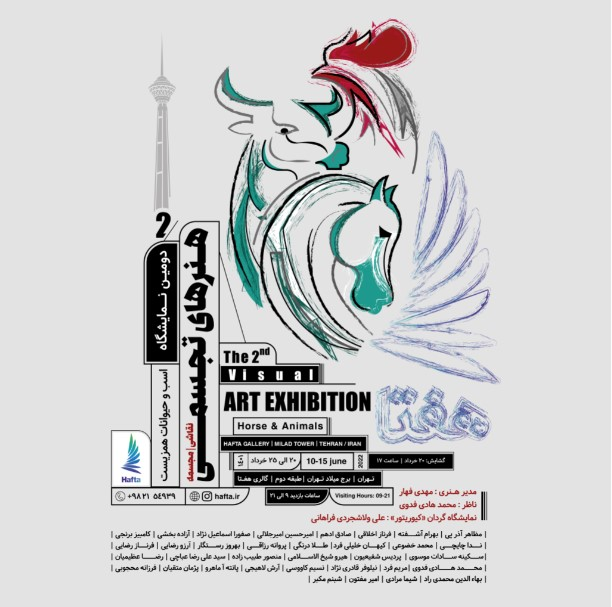 Excerpts from "Horses and Animals Coexist"
"Horses and Coexisting Animals" is the title of the second painting and sculpture exhibition curated by Ali Valashjerdi Farahani and supervised by Mohammad Hadi Fadavi, which will be held by the Hafta Cultural and Artistic Collection from June 10 to 15, 1401 at the Milad Tower Weekly Gallery.
In this exhibition, we see the display of paintings and sculptures with the theme of coexisting horses and animals, which have been created by 33 painters and sculptors (5 works from each artist).
Mazaher Azpay, Bahram Ashfteh, Farnaz Akhlaghi, Sadegh Adham, Amirhossein Amirjalali, Safoura Esmaeilnejad, Azadeh Bakhshi, Kambiz Baranji, Neda Chaichi, Mohammad Khodouei, Kayhan Khalilifard, Tala Darangi, Parvaneh Razaghi, Behrooz Reztegari, Arezoo Rezagar, Arezoo Sakineh Sadat Mousavi, Pardis Shafieiun, Hiro Shaykh al-Islami, Mansour Tabibzadeh, Seyed Ali Reza Abachi, Reza Azimian, Mohammad Hadi Fadavi, Maryam Fard, Niloufar Ghaderinejad, Nasim Kavousi, Arash Lahiji, Pantea Mahro, Pejman Motaghian, Farzaneh Mahjoubi, Bahauddin Mohammadi Rad, Shima Moradi, Amir Moftoon and Shabnam Makbar are the artists whose works will be displayed in this exhibition.
This exhibition will be opened at 5:00 PM on June 10, at Hafta Gallery, located on the second floor of Milad Tower, and will be open to the public every day from 9:00 AM to 9:00 PM.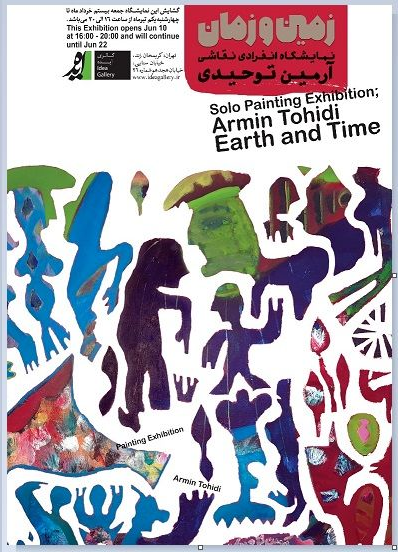 * "Earth and time" image on canvas
Armin Tohidi's solo exhibition entitled "Earth and Time" will open on Friday at the Idea Gallery. The exhibition will start on Friday, June 10, and its doors will be open to the public for 10 days at the Idea Gallery.
The exhibition statement reads: "This exhibition is the result of my experiences in dealing with reality and imagination, which have been improvised on canvas. An in-depth look at the attitudes and behaviors of human beings yesterday and today, whether in war and peace, whether in love and hate, etc., is rippling through my works. The start is formed spontaneously and directly on the canvas. "Using the entire canvas surface as a support surface is one of the main features of my work, and I create my works like Naive artists."
Those interested in visiting the "Earth and Time" exhibition can visit the Idea Gallery at No. 26, 18th St., Kheradmand St., Karim Khan St., Tehran, from 16:00 to 20:00, from June 10 to July 1.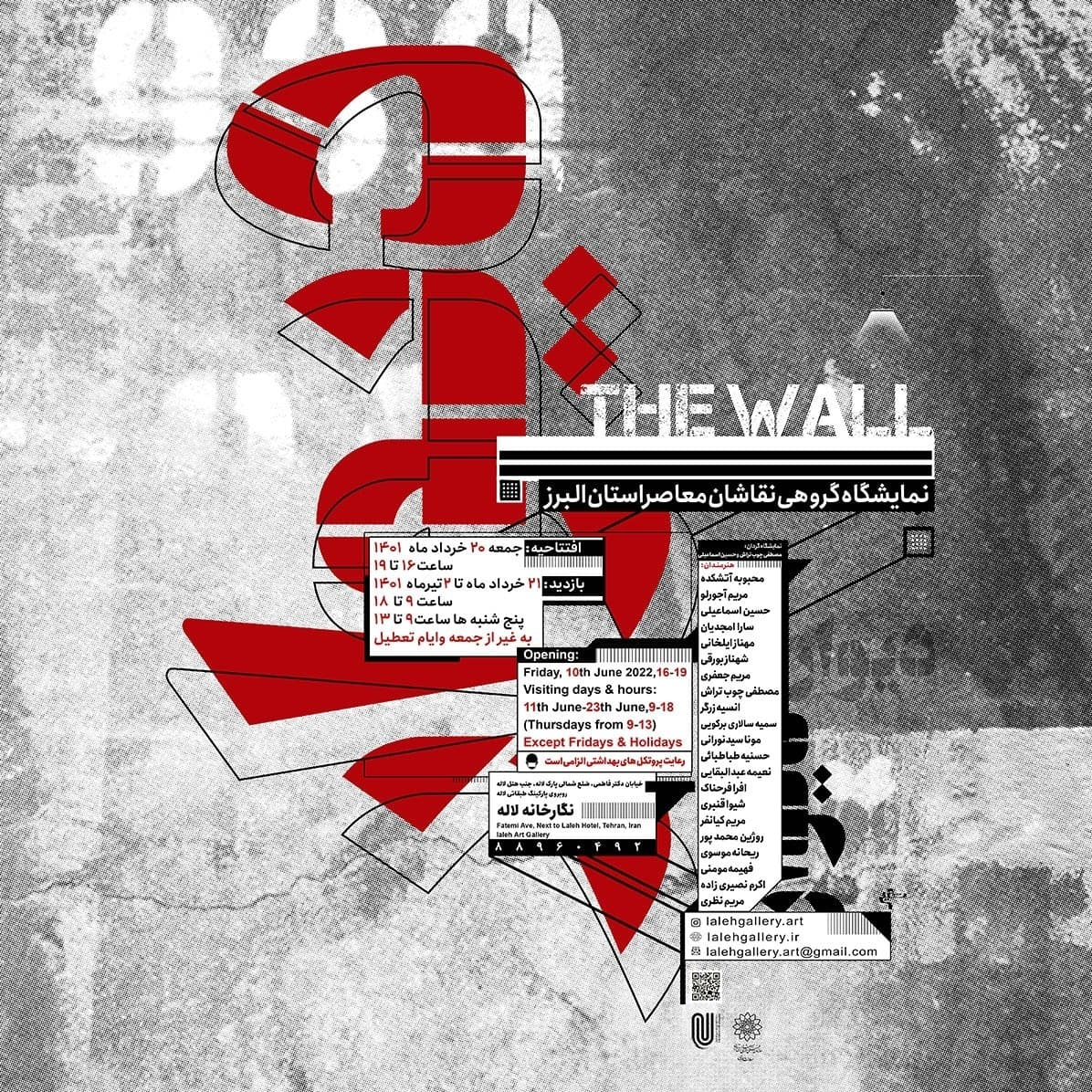 * "Wall" painting of graduate students
The group exhibition of "Wall" paintings, the result of the collective efforts of artists and graduates of Alborz University of Arts, Surah, Jihad Daneshgahi and Rasam University, with a contemporary and modern art approach, will be collected and will open on June 11 at Laleh Gallery.
In the meantime, the artists of this exhibition have tried to have a different perspective on their daily life and life with the basics of form, color and transformation, and together with the universal visual language and different symbols in the form of different artistic techniques and styles from figurative to abstract. Communicate with your audience.
In recent years, this gallery has hosted works by artists from the cities of Mashhad, Tabriz, Rasht, Zanjan, Ardabil and Hamedan.
The names of the artists participating in this exhibition are: Mahboubeh Atashkadeh, Maryam Ajourlou, Hossein Esmaili, Sara Amjadian, Mahnaz Ilkhani, Shahnaz Bourghi, Maryam Jafari, Mostafa Choob Tarash, Ensieh Zargar, Somayeh Salari Barkouei, Mona Seyed Nouraei, Hassaneh Tabat , Afra Farhanak, Shiva Ghanbari, Maryam Kianfar, Rojin Mohammadpour, Reyhaneh Mousavi, Fahimeh Momeni, Akram Nasirizadeh, Maryam Nazari.
The opening ceremony of the "Wall" exhibition will be held on Friday, June 10, 1401, from 4 to 7 pm in the presence of artists and art lovers at the Laleh Gallery. Will be open.
Those interested can visit the Laleh Gallery, located on Dr. Fatemi Street, on the north side of Laleh Park, opposite the Laleh multi-storey car park.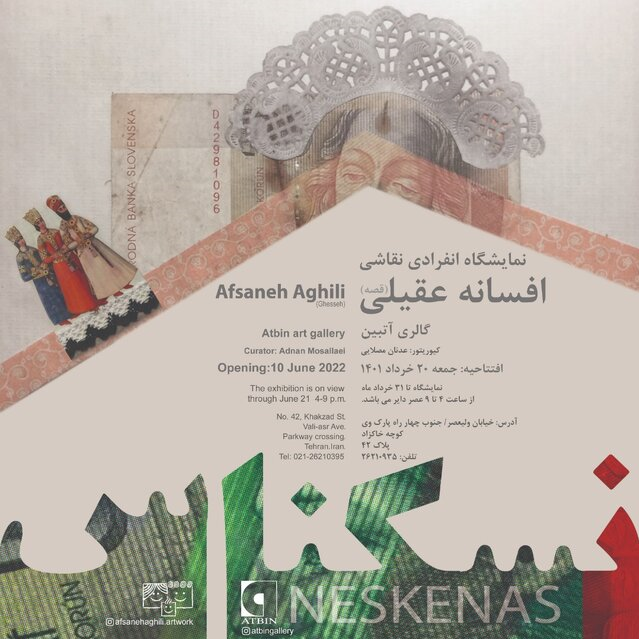 * Banknotes were taken into play
"Nesknas" is the name of the solo exhibition of Afsaneh Aghili, which will be held on Friday, the 20th of Khordad, at Atbin Gallery. These paintings, which have been drawn using banknotes of periods and countries of the world, with a poetic look, try to recreate and create a new concept of this widely used element today.
Aghili, the creator of these works, says about this exhibition: "I have had different experiences of different elements in my paintings in the past years, but in the exhibition of my works held in Barcelona, ​​the play and the way I looked at banknotes were highly considered, criticized and discussed." , This issue made me prepare and hold an exhibition with the same theme and concept. For this reason, I came to a certain narrative prose with a lot of effort and error, and inspired by the themes of each banknote, I dealt with it and narrated it.
The exhibition "Nesknas" curated by Adnan Maslaei will be open until June 20 at Atbin Gallery.
* Works from "Inanimate Nature"
The solo exhibition of Reza Baharvand's paintings will be opened on Friday, June 10, 1401 to Friday, July 23, 1401 at Iranshahr Gallery.
The opening ceremony of the "Inanimate Nature" exhibition will be held on Friday at 4:00 PM in Iranshahr Gallery, located at Karim Khan Zand St., Shahid Azdi St. (South Aban), Sepand St., No. 1/69.
* "Return" portraits
Maryam Mansouri's solo painting exhibition entitled "Return" will be held from Friday, June 10, 1401 to Wednesday, June 15, at Ehsan Gallery.
In this collection, selected works in real and surreal styles, calligraphy and photo resin on canvas are displayed for the general public, which shows the visual beauty with different materials in artistic forms and interpretations, and shows that art in a The cliché is not surrounded by a series of cliché rules, and the artist is free to influence his audience better.
This exhibition will be opened on Friday, June 20, 1401 from 16:30 to 20 in "Ehsan" Gallery and is open to visitors until June 15. Those who are interested can visit the Ehsan Gallery every day from 16:30 to 20 at the following address: Tehran, Ajoudanieh St., 14 Sharghi St., No. 22.
End of message / T 184