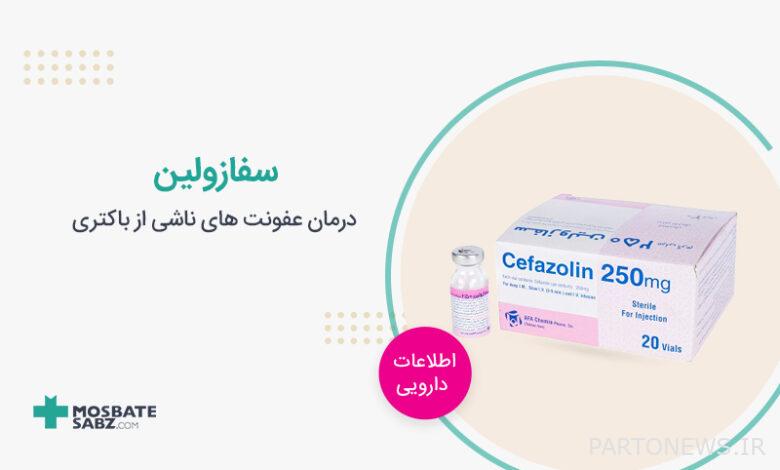 Cefazolin is an antibiotic drug from the cephalosporin group that is used to fight bacterial infections in the human body. This drug is very valuable in medicine due to its strong antibacterial properties and ability to control various infections, including skin, respiratory, urinary and other types of infections. In this article, we will do a broader review of cefazolin drug, including pharmaceutical forms, various uses, amount and time of use, precautions and contraindications in different fields. Also, we examine the importance of cefazolin in the treatment of various diseases and the management of infections.
What we read in this article

Pharmaceutical forms of cefazolin
Cefazolin is produced in pharmaceutical forms of powder for injection of 500 mg, 1 g, 2 g, 10 g, 20 g, 100 g and 300 g. Medicines of the same group of this drug include cefadroxil, cephalexin, cephalotin and cefradin.
Cefazolin uses
Cefazolin is an antibiotic used to treat a wide range of bacterial infections. It may also be used before and during certain surgeries to help prevent infection. This medicine is known as a cephalosporin antibiotic that works by stopping the growth of bacteria. Some of the most important uses of this drug include moderate to severe infections, mild infections with gram-positive cocci, mild to moderate cholecystitis, uncomplicated urinary tract infection, bacterial keratitis (off-label), preparation for surgery, etc.
Uses of cefazolin in adults
Moderate to severe infections
Mild infections with gram-positive cocci
Mild to moderate cholecystitis
Uncomplicated urinary tract infection
Bacterial keratitis (off label)
Preparation for surgery
Uses of cefazolin in children
Endocarditis
Community acquired pneumonia
Moderate to severe infections (prescription only)
Infection with gram-positive cocci
Pharmacological effects and mechanism of action of cefazolin drug
A first-generation semisynthetic cephalosporin binds to 1 or more penicillin-binding proteins, thereby halting bacterial cell wall synthesis and inhibiting bacterial replication. It also has a weak capacity to cross the blood-brain barrier. It is primarily active against skin flora, including S aureus. Maximum plasma time of cefazolin 0.5-2 hours (IM); 5 minutes (IV) with limited protein is 74-86%. This drug is minimally metabolized in the liver and finally excreted in the urine (80-100% as unchanged drug).
Cefazolin dosage
Depending on the dosage, Cefazolin is administered by intravenous or intramuscular injection. This medicine should be used according to the doctor's prescription and up to the last dose in order to get the most benefit from it. If you intend to use this drug without a prescription, you must first read the drug information that the manufacturer has placed on the drug package. To get the best therapeutic effect, take this antibiotic at equal times and doses. Continue taking this medicine until the end of the full course of prescribed treatment, even if symptoms disappear after a few days. Early discontinuation of the drug may lead to the return of the infection.
How to use cefazolin in adults
In order to treat moderate to severe infections, 1-5 grams is used every 6-8 hours.
Mild infections with gram-positive cocci should be taken 250-500 mg every 8 hours for the duration determined by the doctor.
The dosage for mild to moderate cholecystitis is 1-2 grams every 8 hours for 4-7 days.
The dosage for uncomplicated urinary tract infection is 1 gram IV every 12 hours with the doctor's approval.
Preparation for surgery and prevention of infection before surgery, 1-2 g 60 minutes before surgery, which may be repeated during 2-5 hours during surgery. Also, after the operation, 0.5-1 gram should be used every 6-8 hours for one day.
Bacterial keratitis, 1 drop in the affected eye for 1-2 hours. It is also usually alternated every hour with an antibiotic that produces a Gram-negative coating (eg, tobramycin).
Cefazolin 2 g for injection USP and dextrose injection USP are not recommended for use in pediatric patients. To avoid inadvertent overdose, cefazolin 1 g for injection USP and dextrose injection USP should only be used in pediatric patients who require the entire contents of a 1 g dose.
There are no dosing recommendations in pediatric patients for postoperative prophylaxis or for pediatric patients with renal impairment.
Time to take cefazolin in children
In addition to adults, cefazolin is also used in children and even the elderly with the approval and prescription of a doctor. This drug is prescribed for endocarditis in children 30-50 mg/kg, 60 minutes before surgery. Also, for community-acquired pneumonia in children older than 3 months, 150 mg/kg per day divided into 8 hours is used. It should be noted that this amount of consumption in children is for general use and the appropriate dosage should be determined with the doctor's opinion and examination.
Precautions
Before using cefazolin, tell your doctor or pharmacist if you are allergic to it or other cephalosporins or to penicillins. This medicine may contain inactive ingredients that can cause allergic reactions or other problems. If you have serious medical records such as kidney disease, liver disease, stomach or intestinal diseases (such as colitis), etc., inform your doctor so that he can prescribe similar drugs for you if needed. Cefazolin may not work well with live bacterial vaccines (such as the typhoid vaccine). Before getting any immunizations or vaccinations, tell your healthcare professional that you are using this medicine.
According to AHA guidelines, endocarditis prophylaxis is recommended only for at-risk patients.
Long-term treatment, liver or kidney disease, or malnutrition may be associated with an increase in the international normalized ratio (INR).
Use with caution in patients with seizure disorders (high doses are associated with an increased risk of seizures). Because seizures may occur, especially in patients with renal failure where the dose is not appropriately reduced. In severe renal failure, the dose should be adjusted (high doses may cause CNS toxicity). Discontinue use in case of convulsions or adjusting the appropriate dose in patients with renal failure.
Administering parenteral cefazolin in the absence of a proven or strongly suspected bacterial infection or prophylactic indication is unlikely to benefit the patient and increases the risk of developing drug-resistant bacteria.
As with other antimicrobial drugs, long-term use of cefazolin injection may lead to overgrowth of non-susceptible microorganisms. In this situation, frequent evaluation of the patient's condition is necessary. If severe infection occurs during treatment, appropriate measures should be taken.
Treatment may result in a false positive reaction with glucose in the urine when using glucose tests based on the copper reduction Benedict reaction, which determines the amount of reducing substances such as glucose in the urine. It is recommended to use glucose tests based on the enzyme glucose oxidase.
Hypersensitivity reactions, including anaphylaxis, have been reported with the administration of dextrose-containing products. These reactions have been reported in patients receiving high concentrations of dextrose (ie, 50% dextrose). Reactions have been reported when corn-derived dextrose solutions were given to patients with or without a history of allergy to corn products.
As with other dextrose-containing solutions, cefazolin injection should be administered with caution in patients with overt or known subclinical diabetes mellitus or carbohydrate intolerance for any reason.
Antibiotic-associated diarrhea in cefazolin
Clostridium difficile-associated diarrhea (CDAD) has been reported with this drug and may range in severity from mild diarrhea to fatal colitis. Treatment with antibacterial agents alters the normal flora of the colon, leading to overgrowth of difficile.
difficile produces toxins A and B that contribute to the development of CDAD. Hypertoxin-producing isolates of C. difficile cause increased morbidity and mortality, as these infections can be resistant to antimicrobial therapy and may require colectomy.
CDAD should be considered in all patients with diarrhea following antibiotic therapy. A careful medical history is essential because CDAD has been reported more than two months after administration of antibacterial agents
If CDAD is suspected or confirmed, continuous use of antibacterial drugs not directed against difficile may need to be discontinued. Appropriate fluid and electrolyte management, protein supplementation, C. difficile antibacterial drug therapy, and surgical evaluation should be performed as clinically indicated.
Cefazolin contraindications
Hypersensitivity
Side effects of cefazolin
Swelling, redness, soreness or pain at the injection site may occur in some patients after taking cefazolin. This drug also rarely causes loss of appetite, nausea, vomiting, diarrhea or headache in some patients. If any of these effects persist or worsen, tell your doctor or pharmacist right away. Most people who use this drug do not experience serious side effects. Consult your doctor if you have serious side effects such as dark urine, easy bruising or bleeding, irregular heartbeat, seizures, unusual weakness, yellow eyes, or skin, mental and behavioral changes (such as confusion).
Anorexia
diarrhea
Eosinophilia
Fever
Increased transaminases
Leukopenia
nausea and vomiting
Neutropenia
oral candidiasis
Pain at the injection site
Pseudomembranous colitis
convulsions
Stevens-Johnson syndrome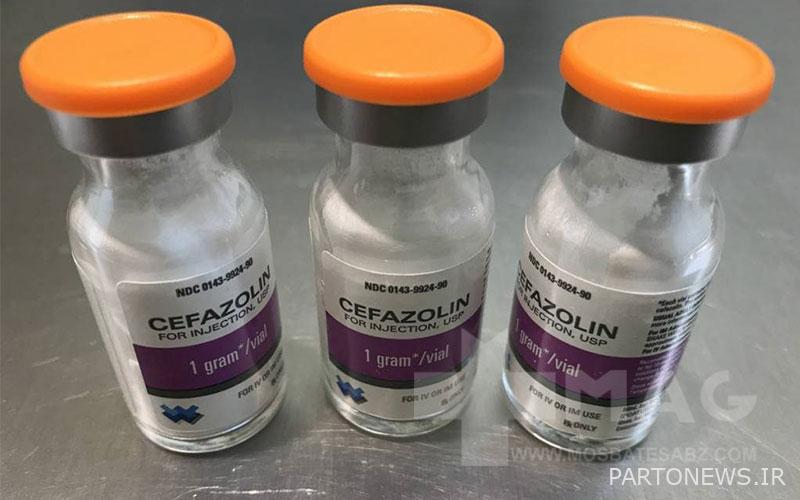 Cefazolin drug interactions
Class X interactions (avoidance): B. G. (intravesical), cholera vaccine
Enhancement of drug effects by cefazolin: aminoglycosides, fosphenytoin, phenytoin, rifampin, vitamin K antagonists
Reduction of the effects of drugs by cefazolin: aminoglycosides, BCG (intravesical), BCG vaccine (immunogenic), cholera vaccine, lactobacillus and estriol, sodium picosulfate, typhoid vaccine
Use of cefazolin during pregnancy and breastfeeding
Available data from published prospective cohort studies reported over decades of cephalosporin use, including cefazolin in pregnant women, have not shown an increased risk of major birth defects, miscarriage, or adverse maternal or fetal outcomes. Animal reproduction studies with rats and rabbits administered cefazolin during organogenesis at doses 1 to 3 times the maximum recommended human dose (MRHD) did not reveal adverse developmental outcomes. In rats administered subcutaneous cefazolin prenatally and during lactation, no adverse effect on offspring was observed at a dose approximately 2 times the MRHD.
The effect of cefazolin on breastfeeding
Data from the published literature report that cefazolin is present in human milk, but is not expected to accumulate in the breastfed infant. There is no information on the effects of the drug on the nursing child or milk production.
Cefazolin storage conditions
Consult your pharmacist for cefazolin instructions and storage details. Keep all medications away from children and pets. It should be noted that the storage conditions of each drug are detailed on the drug information.
The last word about the drug cefazolin
As we described in this article from the online pharmacy magazine, cefazolin is considered as a basic tool in the treatment of various diseases due to its high antibacterial ability in fighting various infections, including skin, respiratory, urinary and other body infections. Also, we have investigated the very positive effect of cefazolin in managing infections and controlling drug resistance issues in bacteria. However, non-prescription use and doctor's approval include side effects of anorexia, diarrhea, fever, increased transaminases, leukopenia, nausea and vomiting, neutropenia, oral candidiasis, pain at the injection site, etc.
Site source: Medscape
Creating content means creating messages that are supposed to communicate with a series of people. Trying to be a good creator…