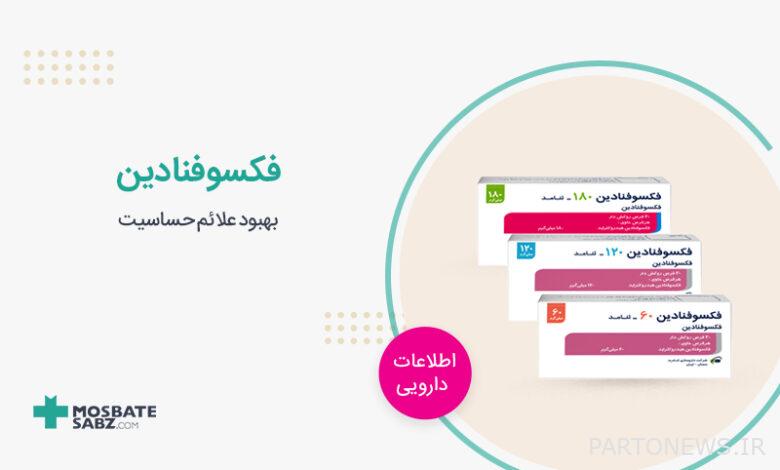 Fexofenadine It is one of the drugs used to manage the symptoms of allergies caused by various allergies. This drug belongs to the class of antihistamines and acts as an H1 receptor blocker. The effect of fexofenadine can be seen in reducing chronic allergy symptoms such as sneezing, coughing, itching and swelling caused by mucous membrane inflammation. With its mechanism of action, this drug will have a positive effect in controlling allergy symptoms, low risk with high effectiveness, improving the quality of body health, etc. In this article, we will take a closer look at the dosage forms, mechanism of action, uses and side effects of Fexofenadine.
What we read in this article

Fexofenadine dosage forms
Fexofenadine drug Available in 30 mg, 60 mg and 180 mg tablet dosage forms, 30 mg/5 ml oral suspension, 30 mg orally disintegrating tablets. Also, its foreign version is available in Iran under the brand name of Telefast.
Fexofenadine uses
Fexofenadine (Fexofenadine) is an antihistamine used to relieve allergy symptoms such as watery eyes, runny nose, itchy eyes or nose, sneezing, hives, and itching. It works by blocking a certain natural substance (histamine) that your body produces during an allergic reaction. The most important uses of this drug are seasonal allergic rhinitis and chronic idiopathic urticaria, which can be used with the approval and examination of a doctor. Although its use and purchase do not require a doctor's prescription, it is better to consult a doctor or pharmacist regarding its risks and complications before use.
Pharmacological effects and mechanism of action of Fexofenadine drug
Histamine H1 receptor antagonist; It competes for H1 receptor sites on target cells in the respiratory tract, blood vessels, and gastrointestinal tract. The absorption of this drug is approximately 12 hours and the maximum serum time is 2-3 hours (tablet), 2 hours (ODT) and 1 hour (suspension). The maximum plasma concentration is 131 ng/ml and it is excreted through feces (80%) and urine (11%).
Dosage of Fexofenadine
If you are taking fexofenadine without a prescription, use the drug information on the product package. Also, if you receive a prescription, take the medicine according to the prescription to get the most benefit from it. Take this medication as directed by your doctor or pharmacist with or without food, usually once a day. Also, use water as much as possible and take the medicine with water. Do not take Fexofenadine tablets with fruit juices (such as apple, grapefruit or orange) as they may reduce the absorption of this medicine.
Dosage of fexofenadine tablets in adults
For the treatment of seasonal allergic rhinitis or chronic idiopathic urticaria, the recommended dose is 180 mg per day.
In patients with kidney failure, it is better to start with a low dose (for example, 60 mg per day).
Simultaneous consumption with grapefruit, apple or orange juice reduces the bioavailability of fexofenadine by inhibiting P-gp. Eat juice at least 4 hours after taking the pill.
Antacids can reduce the effect of fexofenadine. As far as possible, avoid the use of antacid syrups and other effective drugs for the treatment of indigestion so that they do not suffer from drug disorders.
Adults can take fexofenadine until the symptoms disappear and stop it after complete recovery.
Dosage of fexofenadine tablets in children
Seasonal allergic rhinitis: 30 mg for children 2 to 12 years old, 60 mg or 180 mg divided for children 12 years and older. Also, the safety and effectiveness of this drug in children less than 2 years old has not been proven.
Chronic idiopathic urticaria: 15 mg per day for children 6 months to 2 years, 30 mg for children 2 to 12 years, and 60 mg or 180 mg per day for people over 12 years. Also, the safety and effectiveness of this drug in infants less than 6 months has not been proven.
Simultaneous consumption with grapefruit, apple or orange juice reduces the bioavailability of fexofenadine by inhibiting P-gp. Use the juice at least 4 hours after the dose of fexofenadine.
When to take fexofenadine
The dosage is determined by the doctor based on physical health, response to treatment, age of the patient (adults, elderly and children). Never increase, decrease or stop the dose without consulting your doctor or pharmacist. Avoid taking antacids containing aluminum and magnesium within 2 hours after taking this medicine. These antacids can reduce the absorption of Fexofenadine. Tell your doctor if your condition does not improve or worsens.
Precautions
Before taking fexofenadine, if you are allergic to it or any of its ingredients, do not take it. This medicine can contain ingredients that cause allergic reactions or other problems after use. Consult your doctor if you have special medical records such as cardiovascular problems, liver disorders, hypersensitivity, specific allergies, kidney disorders, etc. According to the medical records, the doctor should prescribe medicine so that we can see the least side effects in the patient along with the maximum benefit.
This drug entered the milk of some nursing mothers and had negative effects on the baby. Pregnant women and nursing mothers should consult their doctor before taking any medicine.
Get emergency help if you develop hives with symptoms such as difficulty swallowing, dizziness or loss of consciousness, drooling, tongue swelling, swelling in and around the mouth, difficulty speaking, wheezing, or trouble breathing.
Symptoms may be signs of anaphylactic shock. If not treated immediately by a healthcare professional, this condition can be life-threatening.
Symptoms of anaphylactic shock may occur at the first appearance of hives or up to several hours later.
If your doctor prescribes an epinephrine injection for anaphylaxis or severe allergy symptoms that can be caused by hives, never use this medicine as a substitute for an epinephrine injection.
If an epinephrine injector is prescribed, always carry it with you.
If you do not know the cause of your hives, see your doctor for a medical examination.
Do not use simultaneously with aluminum or magnesium antacids, as well as with fruit juice.
If you have an allergic reaction to this medicine, stop using it. If symptoms do not improve after 3 days of treatment or hives last more than 6 weeks, tell your doctor right away.
Fexofenadine side effects
Vomiting, back pain, dizziness, cough, stomach upset or fever are some of the side effects of Fexofenadine. If any of these symptoms worsen or do not improve, see a doctor. Most people who use this drug do not experience serious side effects. Some serious allergic cases of this drug include skin rashes, itching or swelling (especially in the face, tongue and throat), severe dizziness, breathing problems, etc. If you notice any other side effects not listed above, contact your doctor or pharmacist.
Vomit
Headache
Cough
diarrhea
back ache
Pyrexy
dysmenorrhea
dizziness
stomach discomfort
Pain in the body
Drowsiness
Rainure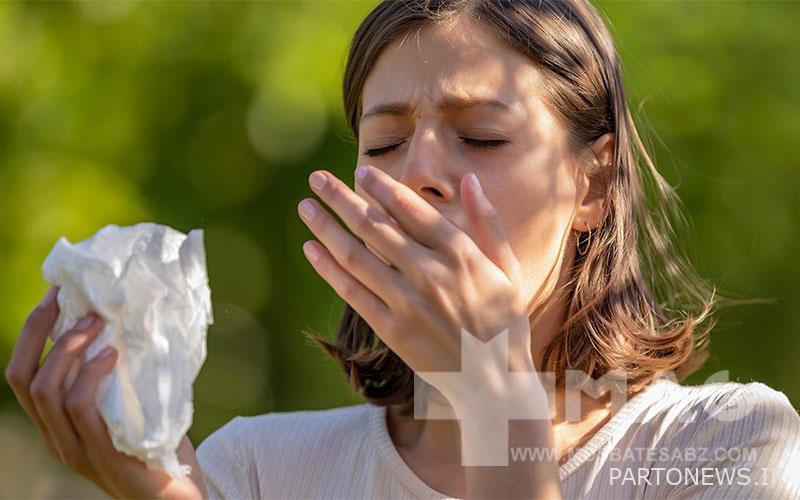 Fexofenadine drug interactions
Drug interactions may change how your medications work or increase your risk of serious side effects. Before prescribing a prescription, show the doctor a list of chemical or herbal medicines you are using. Do not start, stop, or change any medication without your doctor's approval. This medicine may interfere with some tests (such as an allergy skin test) and possibly cause false test results. Make sure that the laboratory personnel and all your doctors are aware of the use of this medicine.
Category X interactions (avoid): ipratropium (oral inhalation), lasmiditan, levosulpiride, orphenadrine, oxatomide, oxomazine, paraldehyde, pitolisant, potassium chloride, potassium citrate, rufenacin, thalidomide, tiotropium, omeclidinium, eloxadoline, glycopyrrolate (oral inhalation), glycopyrronium (topical), aclidinium, azelastine (nasal), bromperidol, simtropium
Reduction of the effects of drugs by fexofenadine: betahistine, gastrointestinal agents (prokinetics), hyaluronidase, itopride, levosulpiride, nitroglycerin, acetylcholinesterase inhibitors, benzylpenicilloylpolylysine, secretin.
Reducing the effects of fexofenadine by drugs: acetylcholinesterase inhibitors, amphetamines, antacids, apalutamide, grapefruit juice, lomacaftor and ivacaftor
Enhancement of drug effects by fexofenadine: blonanserin, brexanolone, buprenorphine, simtropium, clozapine, CNS depressants, eloxadoline, flunitrazepam, glucagon, glycopyrrolate (oral inhalation), methotrexate, metyrosine, mirabegron, opioid agonists, orphenadrine, oxycodone, paraldehyde, pyribedil , potassium chloride, ethanol, amzinium, anticholinergic drugs, azelastine (nasal), rufenacin, ropinirol, rotigotine, SSRIs, suvrexant, thalidomide, thiazide and thiazide-like diuretics, tiotropium, topiramate, zolpidem
Interference with food: simultaneous consumption with high-fat food, which reduces the bioavailability of the drug by about 50%. Also, juices (apple, grapefruit and orange) also reduce the bioavailability of the drug by about 36%.
Fexofenadine use during pregnancy and breastfeeding
Fexofenadine is in category C in terms of the risks of use during pregnancy. It means that it can be used in special conditions and under the special supervision of a doctor. Animal studies (limited) have shown adverse effects on the fetus and adequate human studies are not available. The benefits of the drug against the possible risks determine whether or not to use it during pregnancy.
Fexofenadine storage conditions
Fexofenadine should be stored at room temperature away from light and moisture. Different brands of this drug may have different storage requirements. Check the medicine package for instructions on how to store your brand or ask your pharmacist. Also, keep all chemical and herbal medicines out of the reach of children and animals.
The last word about fexofenadine
As a result, as we described in this article from the online pharmacy magazine, fexofenadine is an important and effective option in managing the symptoms of allergies caused by allergies, which is used as a basic tool in the control of allergies. Also, continued research and future developments may develop the role of this drug in other sensitivities or allergies. For this reason, this drug is considered as an important tool in maintaining health and improving the quality of life of people.
Source: medscape
I was born in 1370. I started content production in 2013 and the more time passes, the more I fall in love with my job.