ecosystem
What was the output of Dimond Online Acceleration?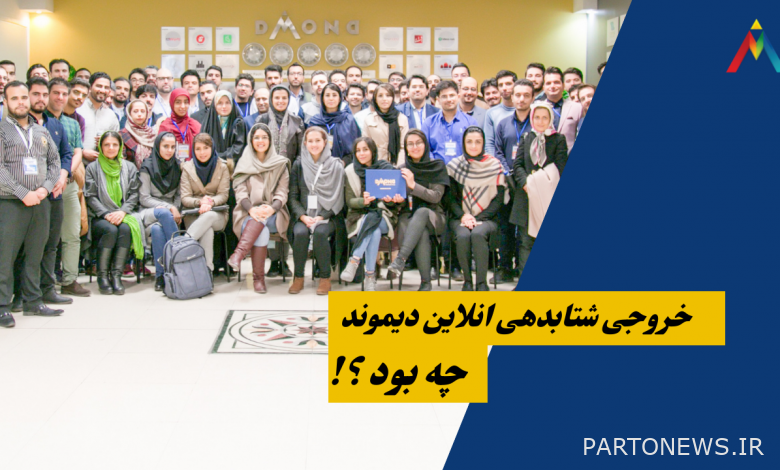 More than seven years ago, Accelerated Dimond It was formed with the aim of promoting entrepreneurial culture for all interested people across the country. Prior to that, entrepreneurship was mostly the share of those who lived in Tehran and in terms of social class, the possibility of trial and error and various risks in various businesses.
Essentials of growing a startup
Every startup needs specialized training; Must have access to specialized professors and mentors. Also have the financial resources to receive the best training needed and be present in Tehran. In addition to all this, make the right team and finally be able to connect with ecosystem activists and investors. Until now, all these facilities were available to a limited number of serious entrepreneurs.
Specialized entrepreneurship trainings for all of Iran!
Now we have good news for all those who dream of starting a startup. With the launch of Online Acceleration, it has become possible to meet a significant percentage of startup training needs throughout Iran. Dimond achieved his most important goal. We tried to minimize the limitations of becoming an entrepreneur! Anyone in Iran who is interested in this field can count on Diamond's help to receive specialized entrepreneurship training.
What is Dimond Online Acceleration?
All services of Dimond Training Department will be provided to startups all over Iran online and free of charge during the pre-payment period.
Within 2 weeks, all the specialized training required by startups with specialized professors in each field will be provided to the accepted teams. In addition to training, experienced mentors will work with startups during this time to help grow the business in practice. Financial and tax advice and legal services are also given to startups if they are accepted in the accelerator. All the mentioned services will be designed and provided to the level and needs of each startup. At the end of these 4 weeks, startups will have the opportunity to present their idea in a meeting with experts to prepare for their growth on a larger scale. Startups must register their idea on the Dimond site to participate in Dimond Online Acceleration.
Why Online Acceleration?
Now look at the mission Dimond accelerator And due to the different conditions that prevail in social environments, by giving priority to maintaining the health of young entrepreneurs and also not stopping in the path of education and leadership, we launched the online acceleration course of Dimond accelerator to attend high-risk social spaces without the need to attend. Provide all the services required by the startup, except the workspace, to the new teams until the conditions improve.
What happened to Dimond's first online acceleration course?
The first Dimond Online Acceleration Course was held in December. During this period, more than 4 startups registered, of which 4 startups entered online acceleration and within two months, all the services of Dimond Education Department (دیموندلب) Was provided to them for free. In the first period of Dimond online pre-acceleration, startups from all over Iran registered, which included two startups from Gorgan and Ahvaz.
Dimond Online Acceleration Service:
Specialized education
Mentoring and private meetings
Legal Consultancy
Financial and tax advice
Connect with related industries in each area to interact between start-ups and enterprises operating in these areas, which allows startups to connect to a wide range of users, customers, experience and even investment. We will hold a meeting to present startups to professionals to prepare for their larger-scale growth.
What was added to the startup at the end of the week?
At the end of the pre-acceleration period, the teams developed ready-to-market products with a complete business plan, clear roadmap, marketing plan, and development plan, and prepared a detailed financial plan to raise capital for the acceleration period.
And finally, holding a special meeting to present startups
After these eight weeks, the startups prepared themselves to present their ideas. Ecosystem experts were invited to review the startups. So startups had the chance to raise capital with good performance and prepare for scalable growth.
What was the result of Dimond's first online acceleration course?
After this two-month period, a meeting was held with the participation of startup ecosystem experts and the teams presented the results of their activities in this event. Eventually, two startups were invested, and the two teams officially entered the Diamond Acceleration to provide them with Diamond services for nine months; These include: investing, mentoring, connecting teams with the communication network and Dimond partner companies, work space and continuing specialized training.
In addition, one of the startups was given the opportunity until the end of June, if they reach the designated targets, they will also enter this 9-month process.
The main problem for startups is accelerating online
The most common problems that caused startups to fail in online acceleration were related to three areas: idea, team and market. We decided to give a brief overview of these three cases to help future teams applying to attend Dimond Online Acceleration.
The problem of ideas
People generally did not do a thorough review of their ideas and were crude. In fact, they did not answer the fundamental question of what important and unsolved problem their idea would solve for their audience. Also, after the idea, they did not take any steps to implement the idea, and at the same time, they demanded a disproportionate amount of money.
The problem of teams
For the ideas that went into the implementation and formed a team, the first problem that was seen was the lack of precise definition of each person's tasks. In fact, most of the teams relied on their friendly relationship to try to resolve obstacles and advance goals. While not managing a working relationship with a friendly relationship was generally problematic.
On the other hand, it could be seen that these tasks were not evenly divided among the team members and the main task was on one person, which became a problem and the ecosystem experts realized this issue in the startup presentation session.
The last point about teams was the lack of diversity of specialties in a team. For example, all team members were in one specialty and had no members in other areas, such as marketing. Or they had members in other fields, but in the technical field, they decided to outsource. If for a startup, outsourcing the technical part is not very costly and cost-effective.
The problem of revenue model and market
Most of the teams did not do any market research for their idea, so they sometimes chose red ocean markets, which made it very difficult to succeed. Therefore, they reduced the likelihood of investing in their idea.
Startups, on the other hand, did not consider their revenue opportunities. Although we know that startups face countless ambiguities, the teams themselves should not turn their backs on the small assets they have. Accordingly, teams need to consider different revenue models in order to be more aware of their challenging path.
The future plan of Dimond Online Acceleration
Dimond plans to hold two more online acceleration courses this year, with information on the new course coming soon. However, teams can still register on the Diamond site.
Startup Admission Requirements
All startups must register their plan on the Diamond site. After registering, an interview session will be arranged. Finally, Diamond experts review the startups and announce the names of those who made it to Diamond Online Pre-Acceleration.
All startups that have these three features will have a special privilege to enter Dimond Online Advance:
Having a cohesive team
Having an initial product that can be provided
Team awareness of their business model
Dimond Innovation Development Group
This accelerator has been accepting more than 3 startups in its pre-acceleration camp since 1998, with the aim of helping new businesses grow, and has more than 3 teams in its investment portfolio. These teams have been accepted in the cities of Tehran, Tabriz, Shiraz, Bushehr and Isfahan, and have successfully passed the acceleration and pre-acceleration courses. Among the startups of Dimond: Obera, Achare, Novak, Tegmund, Kadro, Vitrinet, Aghajazeh, Booking Villa, Karnakrad and..
How do you rate this article?